Two OP Omega Members Intern with Swimming World Magazine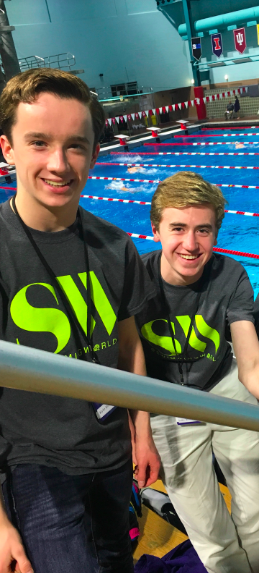 Hang on for a minute...we're trying to find some more stories you might like.
From January 18-20, Berkeley Aquatic Club hosted the 2019 Speedo Winter Invitational at Rutgers University. This swim meet featured 11 club teams from all over the North East Region who descended on the Sonny Werblin Recreation Center over the weekend. This meet was covered by Swimming World Magazine with the help of various high school interns hand chosen by Berkeley Aquatics and Swimming World. Two of these interns, Luke Bernstein and Kyle Roethlin, served as Student Journalists for Swimming World during the competition. Their articles, published on swimmingworldmagazine.com, can be read below.  
Luke Bernstein's article:
https://www.swimmingworldmagazine.com/news/destin-lasco-reflects-on-junior-pan-pacs-and-cal-commitment/
Destin Lasco reflects on Junior Pan Pacs and Cal Commitment
From Fiji to Piscataway, New Jersey, Destin Lasco is making news whenever he steps into the pool. A junior swimming for Salvation Army Kroc Aquatics, Lasco has already qualified for the U.S. National Junior Team, earning him a trip to the Junior Pan Pacific Championships last summer. And starting in the fall of 2020, he will swim for one of the premier NCAA programs in the country, Cal-Berkeley.
On Saturday night at the Speedo Winter Invitational, Lasco had a quick double, first swimming the 100 back and then the 400 free. After the backstroke, Destin took a brief moment to speak with Swimming World about the race he just finished, his summer experiences, and his exciting plans for the future.
Lasco swam a 57.11, a time he felt was good but was quick to point that he was currently in the midst of a grueling training program with his club as well as a busy high school season for Mainland High School. However, he was ecstatic about the opportunity to swim long course in the month of January as it is a "great opportunity to see where they are at with training" and to evaluate areas of success and some places for improvement. Lasco also recognizes that he has to swim long course as much as possible as it is the only way to make the big meets and swim with the big guns.
Lasco was also eager to talk about his experience over the summer at Junior Pan Pacs. He described the trip as an "amazing experience to be around a group of people who had the same drive, same passion." He struggled to put into words how much it meant to be with a group of talented swimmers all aiming to be the best versions of themselves and hopes to have the opportunity to swim a meet like that one in the near future.
However, the best part about Lasco's experiences the past few months happened very recently, when he was able to commit to Cal. When asked about this decision, Destin's smile could be seen from ear to ear as he described the magical swim program in Berkeley. He described the environment as, "world class, from the academics, to the coaches, Dave Durden and Chase Kreitler."
The coaches spoke of being an athlete both physically and mentally, emphasizing that success in the classroom was paramount, which struck a chord with Lasco. He also mentions that during his visit, "he bonded really well with the team" and could not pass up the opportunity, "to train with Olympians such as Ryan Murphy, Josh Prenot, and Nathan Adrian was awesome" and he felt blessed to be a part of such an amazing group of people.
Lasco was just shy of completing a double first place evening with a strong second place finish in the 400 free. He finished with a time of 4.03.25, just behind Timothy Marski's winning time of 4.03.06. Just a small setback, and Lasco will be back in the pool Sunday for the 200 back and 100 free, and he will be a top-two seed in both events.
Kyle Roethlin's article:
https://www.swimmingworldmagazine.com/news/the-swim-coaches-perspective-on-the-speedo-winter-invitational/
The Swim Coaches' Perspective on the Speedo Winter Invitational
January is the middle of short course season, a time for fast races in a 25-yard pool. However, the Speedo Winter Invitational, a long course meet with a 50-meter pool, falls within this season. Swimmers have to be ready for the quick switch from long course to short course in order to be ready.
This change leaves coaches with an interesting dilemma: how should they prepare for a long course meet in the midst of short course training? Particularly, how do coaches prepare their younger swimmers for such a meet?
Some coaches use the long course racing opportunity to enhance their swimmers skills and prepare for upcoming meets. Gabbie Sofia, a coach at Long Island Aquatic Club, explained that the Speedo Winter Invitational is just another meet. It's not too different from any other, despite the change in distance.
Coach Tom Himes of North Baltimore Aquatic Club seemed to agree with this sentiment. NBAC does not prepare for this meet any different than the would any other. Hines, however, appreciates the opportunity that Berkeley's annual long course meet offers for his swimmers. NBAC has a big short course meet around Christmas time, and this meet allows his swimmers to swim fast without having to worry about going slower than their short course times from their Christmas meet. So Hines calls this simply a "good workout meet."
Fritz Homans of Southern Maine Aquatic Club had a very interesting perspective on the meet. Homans explained that there are no long course pools in Maine, leaving his team with an obvious problem of how to prepare. SMAC has found a solution here in New Jersey: They bring swimmers down to New Jersey on multiple occasions each year to train in Berkeley's long course facility, and they also swim in five to six long course meets throughout their season, solving their problem of a lack of long course pools.
For Southern Maine and the rest of these clubs, the big advantage of the meet is long course racing, gaining experience in a format they see sparingly but one that is critical in the world of swimming. And since the biggest meets in swimming are all held in long course pools, the experience gained could be a big boost to swimmers down the road.