Refball: The Calls that Shaped Super Bowl LIII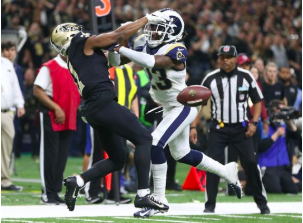 Hang on for a minute...we're trying to find some more stories you might like.
At around 10 pm Sunday, the Super Bowl was set; Rams vs. Patriots. What is set to be a great game has been tainted by the poor jobs of officials in the conference championship games. Sunday's slate began with an epic NFC clash between the Saints and the Rams and while the game was a great clash that went down to the wire, the game will be remembered for the wrestling style hit Rams DB Nickell Robey-Coleman laid on Saints WR Tommy Lee Lewis. The hit was vicious and was blatant pass interference. It cost the Saints a trip to the big game with people going as far as mentioning an obscure rule in the rulebook that gives Commissioner Goodell the ability to veto the game entirely and order it to be replayed. This play would have set up a Saints first down, as per interference rules and allowed the Bourbon Street Boys to run the clock down to a bare minimum and give Will Lutz a chip shot opportunity. Yet this was not the only call that affected the outcome of a game.
Almost 850 miles away at Arrowhead Stadium, Chiefs DL Chris Jones, attempting to disrupt a Tom Brady throw, was penalized for roughing the passer on one of the most important drives of the game (as it was the last drive the Patriots would get for a touchdown before overtime). Yet the play did not warrant one upon any circumstances. Jones had barely touched Brady and had stopped at the end of the play. This awful call resulted in an automatic first on what should've been a fourth down. What that does psychologically to a defense is unimaginable. Being flagged for an obvious no-call that cost you your ticket to the Super Bowl.
This entire season has been marred in controversy. While every referee adds to the factor of human error, each of these games has been covered with controversy like a strawberry in chocolate. Even in the regular season, games are being decided by penalties. Obvious ones that should be called instantaneously have led to major comebacks in games that shouldn't have been close. While the world isn't perfect, the NFL needs to be better with their officiating. Games can't end the way those this past weekend did. The Super Bowl should be played between the 29th and 30th picks in the draft this year; the Chiefs and Saints.