An Interview with Winter Track Coach Mr. Seebode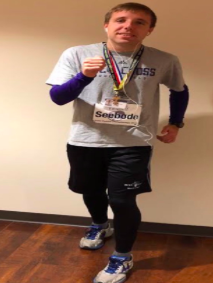 Hang on for a minute...we're trying to find some more stories you might like.
This week I was able to sit down and talk with our winter track coach, Mr. Seebode. As a member of the winter track team, I was interested to see what he had to say; especially since most of our team is composed of freshman and I got us disqualified from an event. Therefore, I figured it would be important to hear what he had to say about that.
What are your team goals for the season?
Just to improve as a team for our young members to get better and improve last years times.
How do you feel about your first season as an Oratory coach?
Good. We are a very young team and have a lot of room to improve so it will be a journey.
How do you respond to people walking during practice?
I would not be happy. As a runner, I've always seen people run. As a coach, I know that you never get better if you walk.
I've heard rumors about a freshman who wasn't me that was DQed, what do you have to say
Its normal for a freshman to make mistakes and as a freshman in big races, it is easier to get confused.
What do what to see the team achieve by the end of the season?
I would like everyone to improve overall and improve from last year and to get better for next year.
Do you think coaching winter can teach you about coaching spring track?
Winter track is tough to coach because the weather is bad and we have limited space inside. For spring track, it will be good to know how to coach sprinting. I have only coached distance before.