OP Fencing takes on the Cetrulo Tournament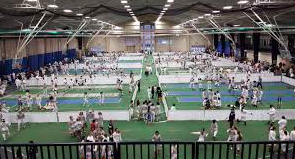 Hang on for a minute...we're trying to find some more stories you might like.
The largest high school fencing tournament in the state is known as Cetrulo and Santelli, for boys and girls respectively. Every respectable team in New Jersey shows up to compete, creating a true comparison with the state. Oratory's performance while in some parts good was not so in others. As a whole, the team placed 44th within the tournament, however individual ranks were 22nd, 52nd, and 50th between sabre, foil, and epee. While foil and epee were missing their A's, part of their poor performance, sabre did particularly well. The last time the sabre squad got into such a high pool was three years ago with a squad of seniors. On this occasion, it was done with two juniors and a sophomore.
The tournament consists of two rounds; the first being seeded by the number of fencers and grade. Squads with a high number of upper-classmen will seed higher initially than squads with a fewer number. Each squad is then placed in a pool where a round-robin occurs. Based on the number of wins and the indicator, your squad is then re-seeded and a second pool begins. Indicator means the margin of victory collectively added together. The second round is largely the same as the first except that it is the final round of bouts. A squad can not place any higher or lower than his pool at this point. Securing a first-place finish within the first rounds pool might just guarantee your squad a top 8 finish.  
For instance, Oratory's own sabre team placed into the second round's third pool despite initially being ranked in the high 30's. That second pool contained the likes of Columbia, CBA, and Pingry; Columbia being a team Oratory had lost a meet against in the following weeks.