Interview with OP Puck Shot Stopper Greg Lahr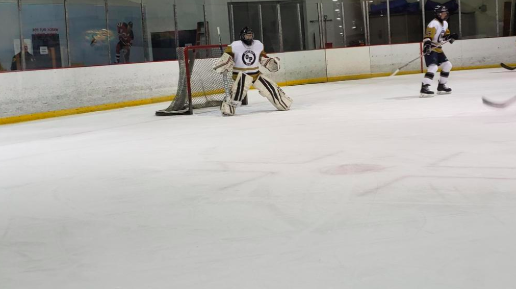 Recently, I had the opportunity to sit down with OP Hockey's star goalie, Greg Lahr. I know Greg personally as he is a sophomore like myself, but I've noticed he's really stood out on the ice this winter. I was able to ask him multiple questions regarding the sport and his puck ambitions for the remainder of the season.
How long have you been playing hockey for? Do you play outside of school?
Greg: "I have been playing hockey since I was 5. So, I have been playing for about 11 years now. Early on, I started out as a player but when I turned 9 years old I switched to be a goalie. I do play outside of school, for a travel team called the NJ Rockets. Currently, I play for OP and my travel team."
Has goalie always been your preferred position?
Greg: "Yes, I have been playing goalie for seven years now and it has always been my preferred position. Since I switched when I was younger I have always loved the position and all the responsibility and pressure that comes with it."
With now being 13 games into the season, how are you feeling about the team's overall performance? Has there been any big surprises or has anything stood out to you that you didn't expect coming into the season?
Greg: "I think that this season, the team has performed well. With a new coach, I feel that the team has done well under Coach Sam and that we will continue to develop over the next years. Coming into the season, I thought that we were not going to be as good because we moved up a division with harder competition. However, I am extremely happy with how the season has turned out with us being one of the top teams in the division."
I've realized you've been awarded the MVP helmet quite a few times this year. Which game do you think you performed the best in?
Greg: "The game in which I think that I performed the best is in the Verona game. It was our second game and I had a 44 save shutout. Also, with lots of rowdies there it felt pretty good to get the dub."
Your stats have stood out among the rest. Are there any personal goals you're looking to accomplish before the season's end?
Greg: "One personal goal that I am trying to achieve before the end of the season is to be on the top 50 sophomore list on NJ.com. This season, I have been trying to make sure that I play well enough to make sure I accomplish that."
Finally, what goals are the OP hockey team as a whole looking to achieve before the end of the season?
Greg: "Some goals that our hockey team has this year is to win the conference championship. Last year, we made the finals and lost and this year I feel that our team is more determined to win the championship. Other goals we have are to make states and to perform well in the state tournament."