Way Too Early March Madness Predictions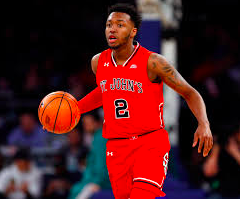 Hang on for a minute...we're trying to find some more stories you might like.
March may be three months away, however, it is never too early to start thinking about your March Madness brackets. Below is, in my opinion, the teams to look out for and the teams that have proven themselves worthy to be in contention of a championship year in and year out.
It is not uncommon to see some teams play their best basketball in March. In fact, it is quite common with the most recent example being Loyola Chicago who went on a miracle run to the final four despite not being projected to make it out of the first round. In 2019 fans should expect a couple of dark horses. With a strong first half of the season, I believe fans should expect Texas Tech to go deep into the tournament. Led by sophomore Jarret Culver, the Red Raiders played top-ranked Duke very well as their unique and speed team has proven to stack up nicely against some of the perennial powerhouses. Another team fans should expect to do well is St. John's. The Johnnies are led by a sensational guard, Shamorie Ponds, who is arguably the best scoring guard in college basketball at the moment. With Chris Mullin on the bench and other key players in Mustapha Heron and LJ Figueroa, the team should look to make some noise in March. Like Texas Tech, depth is an apparent issue for both teams whose bench is not nearly as efficient as the starters. My final and boldest prediction for potential dark horses in the tournament is Arizona State. This is if they make the tournament in the first place. The team who is coached by Bobby Hurley has just started conference play and with Luguentz Dort to lead the team, it will be an interesting next couple of weeks for the team.
March Madness is not what it is without the perennial powerhouses who have consistently made noise in the tournament. The most notable teams being UNC, Kansas, Michigan State, Kentucky, Duke, Michigan, and Gonzaga.  This year, however, it is apparent that Duke, Michigan, and Gonzaga are the three frontrunners out of the teams previously listed. Duke has easily proven themselves to be the most talented team fans have seen in recent years. With a smooth forward in RJ Barrett coupled with Tre Jones shiftiness and Zion's physicality Duke is a force to be reckoned with. Zion Williamson has dominated the college game as a true freshman throwing up crazy dunks while at the same time remaining a consistent presence on offense and defense. It would be crazy to not bet on this incredibly talented team.  Michigan is another team that is simply dominating this year, they just haven't gotten the hype they deserve. Jordan Poole and Ignas Brazdeikis look to lead the team who went on a strong run last year making it to the finals but eventually losing to Villanova. The final and mysterious front-runner is Gonzaga. Gonzaga has always intrigued as their schedule is flooded with small schools from the west coast, and despite this go deep in the tournament year in and year out. This year, they have already proven themselves as a strong candidate with an early season win over the dominant Duke Blue Devils. Look for Rui Hachimura to lead the team throughout the second half of the season.
College basketball this year has already been very exciting.  The second half of the season will weed the weak teams out, prove the strong ones and maybe give a little foreshadowing of possible small-conference dark horses.