A Brief Overview of Hypemas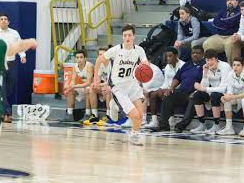 Hang on for a minute...we're trying to find some more stories you might like.
It's here. Hypemas is back. For all the freshman asking themselves; what is Hypemas? Well Hypemas, as defined by wiseman Nick Sannito, is an ancient celebration celebrated by Oratory students every year. The celebration is a basketball game that concludes a week of heckling and firing up the "boys" for the game.  It is the most "lit" day of the year, every year per se and this year it should not be any different. This Friday the boy's basketball team faces off against our cross-town rivals (New Prov) cross-town rival, Governor Livingston. By the transitive property, that automatically makes GL our rival.
With that being said, this year the team boasts a ton of fresh talent with a good portion of the team being underclassmen, including 6 foot 8 prodigy Tommy Conniff. The team is led by seniors Owen Novak, Liam McFarland, and Captain Casey McKee. This run and gun style of play has differed from last years team who opted to run a different, more methodical offense. This new style features four guards and a big man allowing the team to run the ball, reaching their desired pace and tiring out the other team.  While this style of offense features a lot of fast breaks, the Rowdies should expect many jump shots and corner threes by offensive weapons, Peter Byrne and Casey McKee.
Recently I had the opportunity to ask Liam McFarland a few but important questions regarding the upcoming game and season from the shooting guards' perspective.  
What should the Rowdies expect on Friday?
"They should expect a new offensive playing style and a fast-paced game. We are gonna come out swinging."

What are you looking forward to this season?
"I'm looking forward to the team growing together and reaching a new level of OP basketball."
As I look forward to the game on Friday I think it is important to understand truly how important this game is to the OP community. With that being said, it is also important that the Rowdies stay rowdy but at the same time respectful adhering to the specific guidelines that will be enforced by Mr. Martin and various faculty members in the crowd.