The Death of a President: The Life and Achievements of George H. W. Bush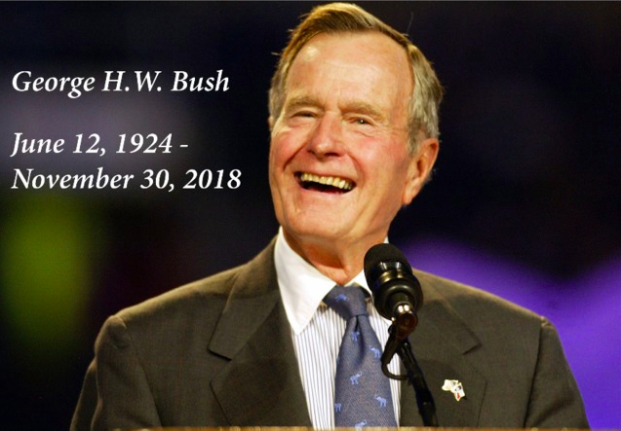 On Friday, November 30, 2018, the world lost a truly great man. No matter what one may think of his works as a president, it is impossible to deny what kind of character Bush '41' truly had. This article will hopefully serve to highlight the best of George H. W. Bush.
The funeral which was a four-day memorial was a sight to behold. Perhaps the most touching moment was a speech by H.W.'s son, with his namesake, former President George W. Bush. George W. Bush delivered a beautiful eulogy for his father and clearly showed how much he loved and respected him. Bush spoke about his father's incredible marriage, stating that "every day of his 73 years of marriage, Dad taught us all what it means to be a great husband. He married his sweetheart. He adored her. He laughed and cried with her. He was dedicated to her totally." By the end, Bush began to tear up, it was clear how much he loved his father. Former presidents Bill Clinton and Barack Obama, despite being on opposite sides of the political spectrum, attended the funeral. It truly shows how politics can and should be left aside, and shows a true, shining connection between Americans. Bush was buried next to his wife in Texas.
H.W. Bush served in WWII and was a dedicated soldier. However, his immense character is often clouded. Bush, during his presidency, had to live up to a huge hole, left by the incredibly popular President Ronald Reagan. He also raised taxes in order to solve a government deficit, which is not a very good factor for popularity. But overall, Bush's presidency was full of good things. He allowed the Soviet Union to die with dignity and was in office during Operation Desert Storm when the United States fought against Iraq in the Gulf War.
Bush was nothing like many of his predecessors such as Reagan and Kennedy, he did not like the spotlight. He was a modest man, one who carried himself with dignity and poise. Even in his later years, he was still living out his life, going skydiving at age 90. He once shaved his head in order to cheer up a young cancer patient so that they would look the same. Bush was truly a man of great character, who is a great example of how to live a full and honest life.
I asked our editor, Daniel Carvalheiro-Santos, what he thought about George H. W. Bush., and he told me that he actually once wrote a letter to the former President, explaining that Bush actually wrote back to him. Daniel described Bush as "a great man", speaking to the true impact the President had as a person. In the end, it is important to observe not only the work of a man but who the man was as a person. It is very clear to see, as a President and as a man, George H. W. Bush was a man of true poise and character.