Christmas Around the World: Traditions of Other Nations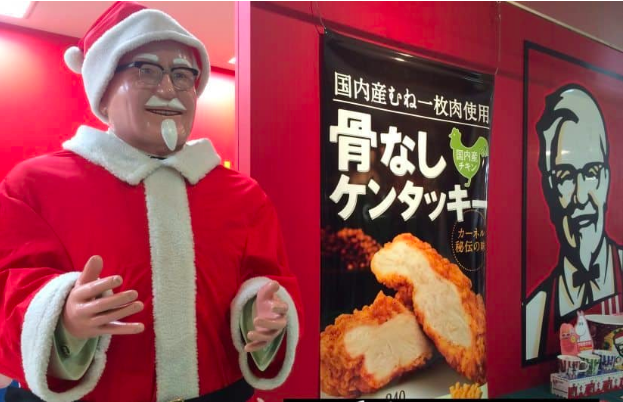 Christmas is a name which everyone has heard; it is a holiday celebrated all around the world. Whether one is religious or not, anyone can appreciate getting together with family and celebrating yearly traditions. However, what are these traditions exactly? Perhaps getting a tree and hanging your stocking? American traditions are quite well known, but this article will serve to recognize the (admittedly sometimes weird) Christmas traditions from around the world. With the start of December, it is time to kick off the Christmas spirit!
Japan and KFC
Yes, you heard me right, KFC. It is Christmas tradition in Japan to eat KFC. Every year, some 3 million Japanese families sit down and enjoy some delicious fried chicken for Christmas. "How did this happen?", you may be asking, and that is certainly a good question. It all started with Takeshi Okawara, the manager of the first KFC in Japan, who overheard a couple talking about how they missed eating turkey on Christmas. So, in 1974, Okawara started a campaign called "Kurisumasu ni wa Kentakkii" (Kentucky for Christmas), and the program took off. Essentially, Japan was lacking a Christmas tradition, and so, KFC made one. According to KFC, their Christmas sales account for nearly ⅓ of the company's total yearly sales. However, getting KFC for Christmas in Japan is not easy, and actually requires ordering weeks in advance, or waiting hours in line if one did not do so. Not many in Japan are actually Christian, so the holiday is not very huge there, but it is still interesting to see such an odd tradition at the front and center of Japanese Christmas.
Sweden and The Gavle Goat
Sweden is home to another rather unique tradition around Christmas time. In Gavle, Sweden, a 42-foot tall goat is erected every single year, to this very day. This statue is a large version of a traditional Swedish yule goat figure usually made from straw. However, this part is the normal part. What this tradition has somehow led to, is people trying to burn this huge goat down. Another tradition has been born from the original, and insanely, since the tradition started in 1966, the goat has been burnt down 29 times, with the most recent destruction being in 2016. What better way to celebrate the holidays than to burn down a giant goat statue, right?
Austria and Krampus
Perhaps some readers have seen the movie based on this creature (I was too scared to), but Krampus is a real Christmas tradition in Austria. Essentially, Krampus is a frightening demon creature who is half-goat, with horns. The idea behind Krampus is that he is the opposite of St. Nicholas. Since St. Nick rewards the good children with toys and goodies, the idea is that Krampus punishes the bad children. Many versions of Krampus exist, ranging from the one who hits kids with sticks to the absolutely demonic Krampus who brings bad children down to hell in a sack. Remember kids, never be bad or the evil goat demon will capture you. What a way to get into the spirit of Christmas.