Looking At Notre Dame's Improbable Perfect Regular Season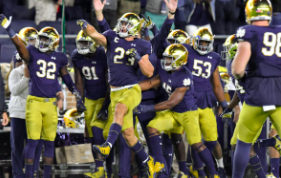 Hang on for a minute...we're trying to find some more stories you might like.
Each year, a new college football team emerges as a surprise to many. Last year, UCF, or the University of Central Florida, was this team as they finished out their season 13-0, although they did not play in a national championship. This year, that team is the Notre Dame Fighting Irish. Notre Dame has been extremely dominant, winning each game by at least 5 points. They have also defeated many powerhouse teams this year, such as USC, Pittsburgh, Stanford, Northwestern and arguably the best team, Michigan. The team has become so dominant with their defense stepping up big, allowing only one team to score more than 25 points this year. As Notre Dame's regular season concluded last Saturday since they are not in a conference, Notre Dame has to await for the final decision on the college football playoff (CFP). With a 12-0 record, Notre Dame looks good going into the determination of the CFP.
This past week, I had the time to interview Oratory Sophomore, and Notre Dame football fan, Michael Viggiano about the team's success this year, as well as personal information regarding Notre Dame football. These were his answers:
What has made Notre Dame's team this year different than other years?

In the past years, Notre Dame has had a collection of really talented individual players which allowed them to win games, but not championships.  This year, the team is playing much more united than teams of the past. Also, they have not been afflicted with a ton of injury as past teams have. (Knock on Wood)

What has been the main key to success with this team this year?

Our main key to success has been our defense.  This year, our defense has let up an average of 17.25 points a game.  With a speedy and skilled defensive line and outstanding defensive backs, they have been holding talented offenses to a manageable number of points for the offense to score.  With a offense with so much firepower like Notre Dame, they have an easy time put up more than the defense has let up.

How long have you been a Notre Dame fan for?

I have been a Notre Dame fan ever since I was born.  My dad has been a huge Notre Dame fan for many years and it was passed down to me.  Before I could even talk, my dad was dressing me up in blue, green and gold every Saturday during the fall.  

Who is your favorite player on the team now and why?

My favorite player this year has to be Brandon Wimbush.  I know he is our backup quarterback now that Ian Book took his position but he has been a class act.  Ever since Brian Kelly, our coach, pulled Wimbush after week 3 and went with Book, he has helped him out and been encouraging to the new star.  It also helps that he is from New Jersey where he attended Saint Peter's Prep.

Is this the most excited you have been watching the team this year?

This has not been the most excited I have ever been from watching Notre Dame.  In 2012, the year Notre Dame had a perfect regular season, we were number 1. It felt so good to be on top and unblemished, until the horrible loss in the championship.  I thought we could beat any team in the country that year. But, this year we are undefeated but still, sit at #3. I am just worried that Alabama might be too dominant this year for anyone else to win.

Do you think Notre Dame not playing in a conference will hurt their chances in making the CFP (college football playoff)

I do think that Notre Dame not playing in a conference will affect them down the road.  This year we are good, but in the future when they are decided against a one-loss Notre Dame or a one-loss conference champ, it might be hard to take the Irish.

Finally, do you think Notre Dame can stand a chance against the always dominant Alabama if they play each other in the CFP championship?

Absolutely, any given day, anyone can beat anyone.  Notre Dame is talented enough to contend with anyone in the country if they play well.  They would need to find a way to prevent Tua Tagovailoa, Alabama's quarterback, from being relaxed and calm in the pocket like he has been all year.