Thanksgiving Prayer Service at Oratory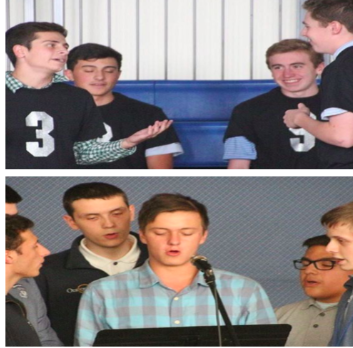 During Thanksgiving every year, people reflect on the things they are blessed with, whether it be family members, friends, teachers, experiences, and material goods. Before the start of break, Oratory congregated in the Bain gym on Tuesday to commemorate the holiday and be thankful as a community.
Through the prayers, readings, and presentations, students and faculty were reminded of what they are all lucky to have. During the procession, while the music ministry performed Blest are They, students and faculty brought up items that represent their gratitudes in life. They set them on a table with a cornucopia, which represented the entirety of the school community. Objects included books, sports equipment, clothing, and other meaningful items. In addition, a video featured teachers and students throughout the school who stated what they are personally thankful for. Some gave specific shoutouts to certain people in the school, others mentioned their family, and many showed appreciation towards Oratory Prep as a whole.
Next up was a skit presented by the Campus Ministry, featuring the story of the Ten Lepers. The group of members presented themselves in t-shirts numbered from 1 to 10, each representing a sick leper. While members Jake Wright and Matt Garibaldi narrated the story of how Jesus healed all of them, each "healed leper" stepped up and proclaimed a negative aspect of their life that is holding them back from thanking the Lord. However, one, a Samaritan, did not do such a thing, as he was the only person to thank Jesus. The team's presentation reminded everyone of the importance of being thankful for the things that they all have, regardless of dissatisfactions in life.
The service ended with the closing hymn, For the Beauty of the Earth. By the end of the school day, students and faculty were aware of the countless things to be grateful for. Following the half day on Wednesday, everyone heads home to enjoy the break. On Thanksgiving, all will take time to appreciate family, friends, and belongings that they are blessed to have.