OP Hockey Preview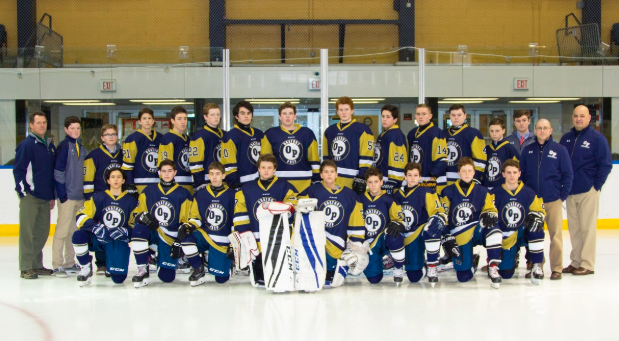 With winter approaching, the hockey players at OP are sharpening their skates and skills and getting back on the ice. After last year's successful season where the team racked up a solid winning record, OP Puck is looking to come back better than ever. I spoke to John Meehan, a senior at Oratory who has been a key member of the program for the past 3 years, to get a feel for what the team is expecting this season.
When asked about changes from last year, John said that there are many new young and talented freshmen and two transfers: goalie Oliver Tauscher and defenseman Tom LaMonte (the only loss is Class of 2018 member Anthony Pergola). In addition, there are a whole new group of experienced coaches who are "determined to make it further this year than in our previous season." So far in their first two preseason games, the hockey team beat West Orange and Watchung Hills. They played both scrimmages very well as a team, and their next one is against Montclair Kimberley Academy, which will be a challenging one. When asked about key contributors, John said that every member has been a part of the success, whether it be goals or great defensive plays, but one guy does stand out: "Jeff Jarvis is always laying the body and giving us good opportunities to score."
One challenge that the hockey team will face is the new conference. After a solid performance last year, the team has moved up to a higher, tougher division which includes schools like Millburn, Cranford, Verona, Johnson, West Essex, and Bayonne. Despite this, John Meehan thought they will do considerably well: "An entirely new freshman class, two new transfer players, and our returning players will enable us to be successful this year." As far as goals go, John said that a major team objective is to do what has not ever been done before in the past: win both a Conference and a Cup: "The past two seasons we have advanced to the final, while also winning the Conference last year, but have been unable to win the final. This year, we will make that our largest goal." The senior also has a personal goal for his final season of playing hockey in high school, which is "to leave an effect on the team once it is my time to advance onto college. Whether it is to lead us to a Championship or provide a fun and productive environment for our team, it will be done."
With countless talented players on the team, Oratory's hockey team can look forward to having yet another fulfilling season. The addition of new coaches and skillful players will put the team up a notch. Perhaps they can set a new winning record, or even add hardware to the trophy case at the school. The expectations for the team are high this year and the 2018-2019 squad will strive to put their names into OP hockey history.