OP Fencing Preview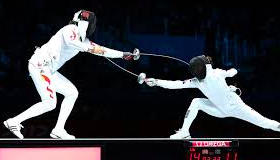 Hang on for a minute...we're trying to find some more stories you might like.
As the fall season of sports winds down, it is time for the winter sports to take their place. Many people will get excited to go see our basketball team aim for another championship season and go over to rinks to watch the hockey team take the ice, but at the same time, we need to appreciate our small sports like fencing. I was able to sit down and talk to a few of the people on the team to ask some questions about the upcoming season.
Two years ago the team had a really good squad where they broke even. Last year they were pretty good and had many well-trained seniors. This upcoming season there are many new freshmen joining them. The team goal is to train hard so that the new kids can fence by themselves and have a 6 and 5 season. There are three parts of the team; Sabre, Epee, Foil. We have two veteran fencers on Sabre, another two on Foil, and one on Epee. Many of the returning fencers will have to step up to replace many of last years seniors.
One person I talked to was Freshman, Nick Batista who is getting ready for his first Oratory fencing season
Connor: How long have you been fencing
Nick: I'm going to be a beginner as this will be my first season. The sport seemed interesting and I decided to give it a go.
Connor: What are your goals for fencing
Nick: My personal goal is to begin the sport, learn the sport, become well-immersed enough to play with other players and make the sport more popular here at Oratory Prep.
Connor: How long do you plan to do fencing
Nick: It all depends on how I do but my goal right now is to fence until senior year.
All together it looks like the team is going to have to work hard to replace some well-performing seniors and train the new freshman. We hope to see the team succeed this season and go on to represent Oratory in the best way possible.