Who Is Our Congresswomen?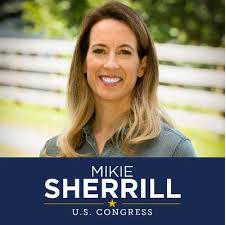 Hang on for a minute...we're trying to find some more stories you might like.
Mikie Sherrill was recently elected to the 11th district of NJ for Congress. This district was previously held by Republicans for many previous elections, but Mikie won by a large margin of 13.5%. This is likely because of the negative perspective of Trump which has caused many Americans to vote Democrat in the congressional elections. Another likely reason Mikie Sherrill was elected is her views on controversial topics; she is looking to fight for affordable healthcare, which is being threatened by the Trump administration.
Mikie Sherrill is an extremely qualified and experienced Congresswomen. She graduated from the Air Force Academy in 1994 and spent almost 10 years in active duty. She flew helicopter missions in both European and the Middle East, also working for the Battle Watch Floor during the Iraqi Invasion. Additionally, she helped negotiate nuclear treaties and naval relations between the U.S. and Russia.
After she left the Navy, she continued her education and graduated from Georgetown Law and eventually worked in the U.S. District Attorney's Office. She worked in Outreach and Re-entry and created better relationships between law enforcement and the community. Furthermore, she helped prosecute many criminals and keep guns of our streets.
Mikie Sherrill is very well educated. Aside from the law degree from Georgetown University previously mentioned, she also has a bachelor's degree from the United States Naval Academy and a master's degree in Global History from the London School of Economics and Political Science. This shows that she has the knowledge necessary to be a responsible leader.
Mikie is also happily married and raises four kids. She doesn't let her life take away from family time. She coached her daughter's lacrosse team and managed her son's soccer team. Mikie Sherrill is a well-rounded person and should be a great congress member.