Oratory Prep Ping Pong League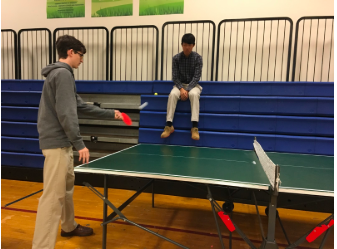 Hang on for a minute...we're trying to find some more stories you might like.
The Oratory Prep Ping Pong League (OP3L) kicked off its season strong last Monday, pitting eight doubles teams against each other in a recreational league play. The teams will play each other in normal round-robin fashion for 21 games, and the team with the most wins will be crowned OP Ping Pong Champs. Playing fierce and intense games to seven points, the sport tests its players' teamwork and precision, each point winning an uproar from spectators. Friendships will be made and broken over the course of the season, which is already almost one-third of the way over for some teams.
Out of the eight randomly-assigned teams, four have already played six games, with only fifteen remaining. Currently, well in the lead, is the duo of Jeremy "J-Hazard" Arroyo-Flores and Sebastian Gould, with six wins out of six games played. Following them, currently in second place, are Ezra King and Sean "Shamu" Brennan, with three wins and losses apiece. Tied for third place are the teams composed of Kyle Hue & James "Simone" Simon and Tyler "Ty" Cross & Andrew "Bagle" Daigle, both with two wins and four losses. Connor Snow and Jack Lawlor have only played two games, with nineteen remaining instead of fifteen, and have lost both. Yet to play are Connell Gorman/Andrew Gsell, Jack Monti/John "J-Nunz" Annunziata, and Ryan Del Rio/Brian McKegney.
Despite still being early in the season, drama has already spun up within the ranks. League officials are already eying Arroyo-Flores closely for accusations of targeting (intentionally hitting one's shots exclusively to the weaker player of the enemy pair to increase their odds of making a mistake), and rules are being implemented to prevent this cheap strategy. The de-facto ruling is that match referees will preside over each game, issuing penalties to players who target. How this will affect the winning duo's success is yet to be seen, but it will make for a more even playing field and ensure all players are able to participate.