Freshman Cross Country Review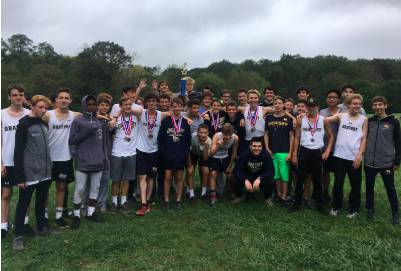 One of Oratory's best attributes is its sports teams. When Coach McCrystal reached out to the incoming class to invite us onto the team I was immediately excited to join such a great team. I had thought about joining the cross country team before the invitation despite never running before, hearing about it from one of the team's best runners, Fernando Aviles and some of the parents of students that had already gone through Oratory. I went to a few of the optional summer workouts to meet some of the people on the team, where I got to meet all three coaches, Mr. McCrystal, Mr. Maybe, and Mr. Crum. I saw how much they wanted everyone on the team to improve over the course of the next four months.
I started going to the preseason practices two weeks before school started which got me used to waking up a little earlier and taking the train. I was able to learn my way from the train station to Oratory. Our first day we only ran a little over 2 miles and by the end of that week, we were at 4 to 5. All of the upperclassmen that I went through as I moved through different groups were supportive as we got used to different speeds and terrains. In my first group, Nick Villa was the first person to make sure that I never walked during our runs and in my final weeks, Joe Meade was encouraging me to push myself.
During the first few meets, all the freshman ran shorter races which meant that the rest of the team could watch us and we got a true feel for what it was like to be on an Oratory team, hearing everyone cheering you on and telling you to run faster. Then when we were done we could spread out and tell them the same things. I cannot wait until next season so that I can improve on my time even more than I did over the course of this year.