OP Varsity Soccer goes Toe to Toe with Delbarton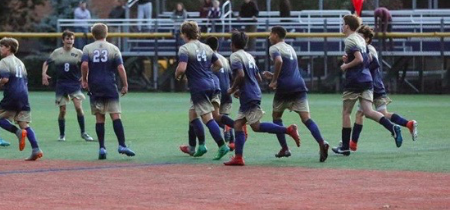 After beating Union Catholic 2-1, the Oratory soccer team played away against Delbarton for the quarterfinals of their state tournament. Delbarton was not only seeded number one in the Non-public A bracket but also were also ranked first in the state. Their record stood at 19-0, scoring tons of goals and only conceding a season total of five. Kickoff started at 2 p.m. and the Rams came in as massive underdogs.
During the first half, OP's team defended as a unit and locked down Delbarton. Delby was unable to create a lot of chances going forward, and as the game went on their players became more and more frustrated, since few of them expected it to be tied 0-0 for so long. The halftime team talk for Oratory pumped up the boys and gave each and every one of them more confidence that they could win. Unfortunately, Delbarton finally scored around the 55th minute and added another one about ten minutes later. Then, with five minutes remaining, OP's Nick Carnevale scored off a set piece cross from Sean Vowells. However, it was not enough as Oratory fell 2-1 to Delbarton despite a solid performance. At the end of the day, every Ram competed and showed great pride while wearing the OP jersey. Additionally, with the result, a young Oratory squad was able to shock many across New Jersey, proving that a bright future lies ahead.