OP XC Senior Reflection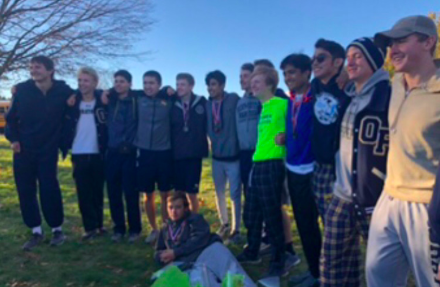 Hang on for a minute...we're trying to find some more stories you might like.
On Saturday, an era will come to an end for Oratory Cross Country. This era involved the Class of 2019's runners and their contributions to the program. If I listed every single accomplishment to which they contributed, we would be here all day long. Instead, I decided to summarize them. The Class of 2019 contributed to three conference titles (between 2 conferences), three CTC small school titles, multiple invitational titles (JV and Varsity), including Shore Coaches and Greystone, school record finishes at Counties, and school bests in the group championships. To give you some idea, a large number of the cross-country trophies in the case from 2015 to now are thanks to the work of many seniors. Besides success on the course, they have contributed to the future of the team by mentoring countless underclassmen. Coach McCrystal made it clear that he was most proud of the group's leadership and perseverance. The seniors moving on from the program are Fernando Aviles, Alex Rickard, Aidan Jones, Nick Mascolo, Kevin DePoortere, Chris Kraemer, Santiago Cortes, Chris Uustal, Greg Lion, Joe Meade, Graham Hamilton, Pat Jackson, Nicholas Villa, and Eric Rhines. Though it is hard to summarize such a legendary era in a few sentences, some of my teammates did so below. Thanks to all our teammates, coaches, and supporters for always sticking with us through the good times and the bad times.
Eric Rhines: When I first started Cross Country, I didn't know anybody who was also doing the sport. However, once I was on the team, I made friendships and bonds that will last a lifetime. From practice to meets, Cross Country was filled with many enjoyable memories and jokes.
Chris Kraemer: Cross Country has been a sport that no matter how terrible it is in nature, is something I have always enjoyed. Running almost every single day during the late summer and fall are things that I would never voluntarily do, but the coaches and the environment they had set for the team is the one thing that had me coming back. It did not matter how fast you were or how slow you were; everyone felt like they were a part of the team. And for those that may have never been fast enough to compete against other teams, you bet they were competing against themselves, and there is no better feeling than coming across that finish line knowing that you gave it your all and you crushed your personal bests. The memories I've made running for OPXC are ones I will carry with me for the rest of my life.
Chris Uustal: Honestly, Cross Country was the best part of my high school career—not just because it pushed me to be my very best even in ways I had never excelled before, but also because of the powerful sense of community, of family, OPXC has. So many other clubs and sports have a sense of team morale, but it's nothing like the true feeling of being a part of something special as XC offers. Everything from the songs we sing on the bus home from meets to cheering on our friends, sprinting down the chute to communally feeling dead on track day all brings us together in a way no other school function ever could. Sure, it can just be a way to get fit and spend your fall afternoons if you have nothing better to do, but it can be so much more than that; if you truly take advantage of the opportunities it can offer you, then you'll make memories that will stick with you for years to come.
Fernando Aviles: The XC team is a group that truly defined my time at Oratory. Seeing the growth of the team, the progression of each and every runner, and just the manner in which every single person on the team grew as an individual has made me love every minute of the sport. If I could do it all again–run every mile, suffer through every race, lead my guys in each pre-race prayer—I would not hesitate. There are few sports that shape character and form bonds the same way XC does, and I am proud to have been a part of this team.