Catholic Championship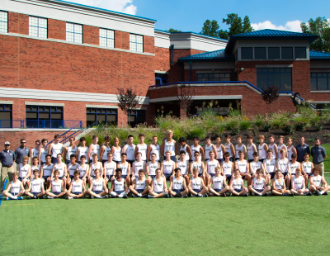 Oratory Prep Cross Country had a successful meet at Greystone – Central Park. Oratory finished fourth in the Catholic schools. Max Russo led the XC team and was the overall winner with a 16:00. Next came Eric Rhines with a top 25 placement and a 17:15, closely followed by Fernando Aviles with a 17:16. Next, closing out the Oratory top 5, were Alex Rickard with a 17:39 and Chris Kramer with a 17:43. The last Oratory varsity runners were Aidan Watkins with a 17:53 and Kevin dePoortere at an 18:03. This was a successful meet as we finished all in the top 50 and beat Delbarton.
In the JV Division, Oratory Prep placed fourth. Jack Sula led Oratory with an 18:07 and finished in the top 15. He was followed by Ethan Kang at 18:47 and Chris Uustal at 18:53. Closing out the top 5 of the JV pack was Will Heffernan at 18:57 and Cole Noss with a 19:02. Finally, with the top JV pack was Jake McChesney and Brendan Kleinle around 19:05. Overall, we all finished in the top 45 and had an average time of 18:45.
In the race, we saw 16 kids all under 17:00. Additionally, we saw a very competitive CBA and Pope John with all their runners in the top 30. We hope that Max Russo will carry us into states and that he will continue to out-compete the best runners at CBA and Pope John.