Catching Up With Former Omega Editors: Will Logerfo and Addison Drone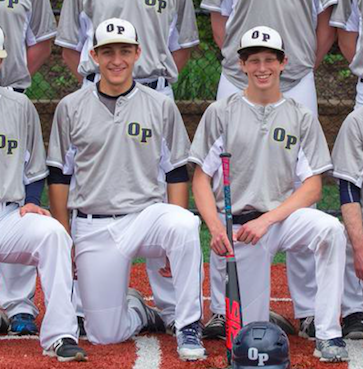 Juniors Luke Bernstein and Daniel Carvalheiro-Santos are currently leading the charge for the Omega as editors. They have done an excellent job so far in their first full year, but there were two different faces in their position last year: Addison Drone and Will Logerfo.
Will and Addison, members of Oratory's class of 2018 who are currently in their freshman year of college, were editors of the Omega during the 2016-2017 and 2017-2018 school year. In addition to this, both served as captains of the baseball team during their senior year, when they led the team to a school-record tying 15-10 record. Both are friendly, hardworking guys who showed great leadership in various aspects. They are both now studying at two excellent universities and are enjoying college-life very much: Will attends Georgetown University (undeclared major but will likely pursue a government major) and Addison attends Villanova University (planning to major in quantitative finance). I was able to catch up with them this past week and ask them a few questions regarding college and their memories at OP.
First off, Will (pictured on the left) is enjoying his student-life at Georgetown very much. He attributes his liking for his university to all the vast, interesting, people he has met. When asked about what he misses the most about Oratory, he stated, "Mostly the people, being able to just stop into the coaches' office and talk about the baseball game last night with Mr. McCrystal, Dean Daugherty, and Allan is something you don't realize how cool it is until you don't do it anymore. And I guess add in Mr. Maybe so he isn't bummed out if he reads this." Something he misses about high school, in general, is "being able to go home after school and know that I had good food waiting for me for dinner. Not hearing Tobin tell me a joke every day has made my days significantly less fun as well." When thinking of a significant moment in OP that stands out to him, he said, "Mr. Corcoran telling me that he wished I was a part of the Donner Party was quite the experience." What Will misses the most about the Omega is "Mrs. Gribbin. I bet if you asked Mrs. Gribbin what she misses most about the class of 2018 she would say me." Will also acknowledged the club's other moderator when asked who his favorite teacher was at OP: "It is hard to pick one, but gun to head probably Mr. McCrystal. When I think of Oratory and all that is good about it, he's the guy that comes to mind first." As a baseball fan, I had to ask Will about his prediction of the World Series, which he replied "Sox in 5. MVP JD Martinez." Lastly, when asked about advice for current students at Oratory, he said "The 4 years fly by, cherish them. My advice for Oratory is to have us read more and write more."
Secondly, Addison (pictured on the right) is also having a great time at Villanova. Similar to Will, he also credits the new people he has met: "I enjoy the opportunity to meet so many different people from all around the country (even though most people at Nova are in the northeast). You have the time to really get to know them beyond just in your classes." What he misses most about Oratory is "Mrs. Gribbin and the Lo Mein" and at school, he enjoyed "the OP Brotherhood and roaming the halls of the old building." When asked about a notable moment that stands out, Addison said, "I would say that the moving on, moving up ceremony was a very cool experience because it put into perspective all that the Class of 2022 accomplished in addition to the amazing ram statue. Also, one of my favorite moments was the varsity baseball team's walk-off win against Pingry in the state game. It was a great comeback effort and shoutout to Ben Landis for having the clutch gene." He looks back at his times in the Omega and said "I miss writing the OP feature pieces about different faculty members and events around the school. Actually, I am writing for the Villanovan, the student newspaper on Villanova's campus, so what I learned from the Omega has stuck with me." His favorite teacher during his time at Oratory was Mr. Kearns, an English 10 Honors and English Language & Composition AP teacher: "He is such a cool guy to be around, told great stories, and (possibly?) fought off a bear back in the day." Coincidentally Addison had the exact same World Series prediction as Will: "I am going with the Red Sox in five. They have an insane team this year, and I think JD Martinez will lead the charge" (Great minds really do think alike). Lastly, Addison ended things off with advice for high-schoolers by saying, "Always get involved, whether that is trying different things at OP or looking forward to college. Also, take advantage of the great people, students, and faculty alike, and make sure to stay in touch with all of them. It is so much fun to visit your high school friends at their schools and crashing in their dorms."
Will and Addison, along with the rest of the 2018 class, are dearly missed by the whole school. I personally enjoyed being with them throughout my first two years of high school at Omega meetings every week and on the baseball field with them everyday during the spring. They have contributed much to the school in various ways and as a result of their hard work, are studying at great colleges. They are perfect examples of well-rounded "OP men" and will always be remembered by their teachers, coaches, and friends at the school.