What Should You Do This Friday?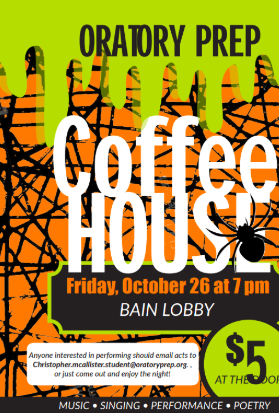 I'm sure that at least some of you reading this have heard about the Coffee House event being hosted in the Bain Lobby at 7:00 PM this Friday, but did you know that that's not the only event on the 26th? That's right folks, scheduled for the same day and time as our Coffee House, Mount Saint Mary's School in Watchung is hosting a movie night for High School students to watch "The Blind Side."
Both of these events start at 7:00 Friday afternoon, and both of them have refreshments available for the duration of the event. One is hosted in our very own heated school while the other is outside on the Angels of Victory Field in the cold. The Coffee House is free for OP Students, and $5 for outside students, while the fee to watch "The Blind Side" is $8 per person.
Now I can't speak for anyone else but I would much rather be in a heated building watching various performances by both our very own Oratory students and students from the surrounding girls' schools than sitting in the cold watching a movie. Not only that but just take a look at the posters and decide which one is more appealing. I would prefer to attend the event that has better graphics on its posters.
If you haven't already decided which event you're going to (or if you're just staying home) then I hope that this totally "unbiased" article has helped you made a decision on whether to support our school or to support Mt. Saint Mary's.
GO RAMS!!!