Opinions on Kanye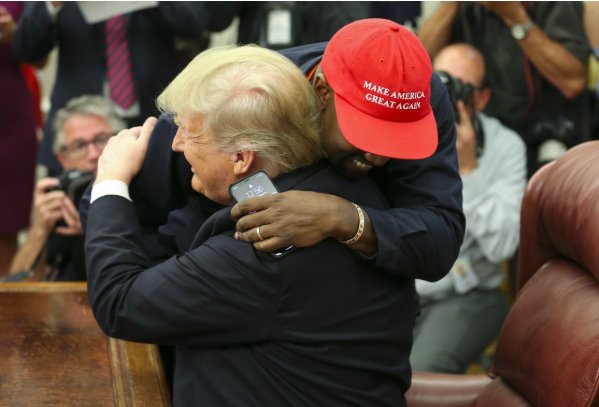 Hang on for a minute...we're trying to find some more stories you might like.
On October 11th, Kanye West acted on a bold promise he had made earlier this month. He and President Donald Trump met in the Oval Office to have a discussion on criminal justice reform. However, the conversation never reached the intended topic but instead ranged from the design of a new Air Force One plane to West's bipolar disorder to Hillary Clinton. But one thing stayed constant during this meeting, West boastfully donned his MAGA hat.  
For the last few months, West has been under fire for comments he has made. The most infamous was when in May he appeared on TMZ, during this interview he said: "400 years of slavery was a choice" referring to Africans who were enslaved in America. More recently, West appeared on SNL to perform for the season premiere. After his performance, he had the chance to speak on a topic of his choice. During this speech, that slowly transformed into a rant, West delivered a heavy Pro Trump dialogue while wearing his MAGA hat.
All of these comments have drawn a split reaction from other celebrities and also the public. Celebrities like Diddy, Questlove, 50 Cent, Lil Duval, and Jim Jones all disagreed with West's actions/comments and all agreed that West wasn't representing  African American communities views on the topics he was talking about. When a group of students who attend Oratory were asked whether they saw West's meeting with President Trump as positive or negative, the results were surprising. Around 25 percent believed that the meeting will have a negative effect, meanwhile, 42 percent believed that the meeting will have a positive effect and 33 percent believed that it wouldn't have an effect. So it seems that our school believes that this meeting will have a positive effect in the future.