Fitness Opportunities at Oratory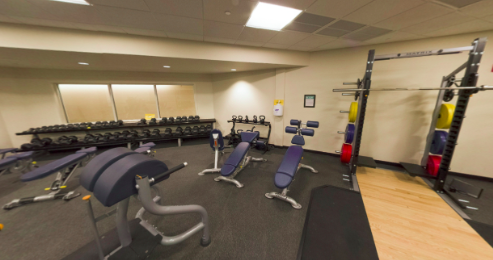 As the school year is slowly progressing, students are continuing to take advantage of the state-of-the-art fitness center here at Oratory. Since Degaeta Hall's official inauguration in 2017, countless people have come to the gym to exercise with free weights, weight machines, medicine balls, and cardio machines, an opportunity that was not available at the school in past years. Because of this, students are exposed to the option of getting in shape and becoming stronger, thus enabling the sports teams to compete at a higher level.
Many students are doing so by coming in early in the morning as part of the OP 60 Fitness Club. Senior Nick Mascolo, in addition to running cross country in the fall and managing the basketball team in the winter, is the president of the club and can be seen in the weight room on Monday, Wednesday, and Friday mornings all year round. He, along with many other people looking to gain strength, come in at around 7 am on these days to get an hour or so of exercise before the school day.
The club is open to absolutely anyone, regardless of age and experience. Whether you have been working out for quite some time or have never touched a weight in your life, the club is a great way to instill a healthy habit into your life. Student members and Mr. Maybe, the club's moderator, are open to teaching inexperienced lifters how to exercise safely and most effectively. In addition, it is a great way to socialize and get to talk to others you typically do not see throughout the school day.
Furthermore, thanks to athletic director Mr. Gist, fitness trainers from Precision Sports Performance will begin coming to Oratory to work with athletes for improving strength, conditioning, and agility. Starting on October 16, every Tuesday and Thursday (from 3 – 4:15 for underclassmen and 4:30 – 5:30 for upperclassmen) students will be able to work out with professional, top-notch instructors. The workouts will be based on the athlete's sport and position, maximizing the individual's potential performance for when the season comes around.
With the numerous athletic and fitness opportunities at the school, Oratory students will become bigger, faster, and stronger. Expect the sports teams on the field and court to put up some big numbers throughout the year!