Top 5 Thrash Metal Albums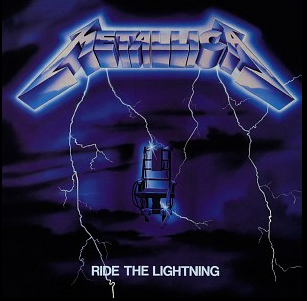 Hang on for a minute...we're trying to find some more stories you might like.
Thrash Metal, a genre focused solely on speed, aggression, and evil sounding riffs, arose in 1983 from debut albums, "Kill Em' All" by Metallica and "Show No Mercy" by Slayer. These two bands are among the most influential bands in the history of metal and are widely considered to be the two best in the "Big 4" of thrash metal, which consists of Metallica, Slayer, Anthrax, and Megadeth. There have been countless thrash albums released by many bands but if you are an experienced metalhead or looking to get into metal, these are the top 5 best thrash metal albums ever released.
#5 "Among the Living" by Anthrax – March 22nd, 1987
Anthrax's third album, Among the Living, is their best album by a long shot and still has not been eclipsed today. Their first track and title track, "Among the Living," starts off with blistering speed and into a mid-tempo chorus with great lyrics to which one can sing along. The following songs, "Caught in a Mosh" and "I am the Law," are classics still played in concerts today. Their fan favorite song, "Indians," comes in right at the middle of the album and overall is just a stellar track. Instead of most albums ending with a mid-tempo song, Anthrax decides to just berate you with speed in "Imitation of Life" with an extremely headbangable chorus. For some lighter thrash metal, this is another great album with which to start.
#4 "Seasons in the Abyss" by Slayer – October 9th, 1990
Slayer's 5th album may be there most well-rounded, combining their evil catchy riffs and slower tempo from their previous album "South of Heaven" and their breakneck speed from "Reign in Blood." However, as a thrash metal album, it can not be as high as others. Nevertheless, the first track, "War Ensemble," causes the listener to involuntarily headbang and sing along to some of Slayer's best songwriting. The fifth track, "Dead Skin Mask," is a "love song" about the serial killer Ed Gein with an evil sounding riff repeatedly leaving the reader on the edge of their seats throughout transitions in the song, making this song their best in the album. The last song, the title track "Seasons in the Abyss," is a delirious sounding "ballad" that wraps the album's feel of evil and suspense astoundingly, making Seasons in the Abyss the 4th best thrash metal album.
#3 "Ride the Lightning" by Metallica – July 27th, 1984
After Metallica made themselves known from their 1983 debut album "Kill Em' All," they made their way into the forefront of the thrash metal scene and blew listeners away with their sophomore album "Ride the Lightning." Their opening track, "Fight Fire with Fire," starts with a beautiful acoustic intro and then breaks out into speed and heaviness causing a listener's ears to smile.
#2 "Master of Puppets" by Metallica – March 3rd, 1986
1986 is considered one of the best years in all of metal history. Many great albums were released in this year, including this album, "Master of Puppets." Everyone who knows anything about metal knows this album. It is the iconic thrash metal album, and though it may be a close second, classics such as the title track Master of Puppets and Disposable Heroes are great, but to be totally honest, every song on the album kicks butt. If you want to get into thrash metal, this should be the album with which you should start.
#1 "Reign in Blood" by Slayer – October 7th, 1986
Slayer is the embodiment of thrash metal. They make killer evil sounding riffs, especially prevalent in their 1988 album, "South of Heaven" and on this album, pushing the limits of how fast a band can play. On their third album, "Reign in Blood," they created an unsurpassed album. The opener on this album, "Angel of Death," has a main riff of straight-line speed and then a breakdown riff that is considered one of their best, if not their best riff ever. Their third track, "Necrophobic," is less than two minutes long and is played at a breakneck speed of 248 bpm. Their ninth track, and second to last track of the album, "Postmortem," is full of many great riffs, and sets up their last song on their album, "Raining Blood," perfectly which leaves the listener with a sense of duress and suspense. If you want to start listening to thrash metal, listen to "Master of Puppets," and if you want to push the limits, listen to "Reign in Blood." You can't go wrong with either.