New York and Boston Rivalry: How did it begin?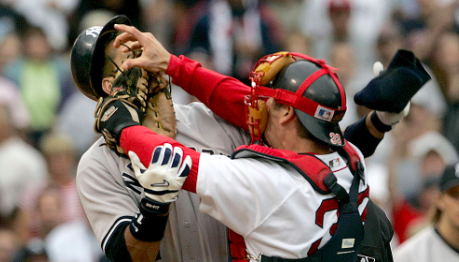 Baseball fans can agree that there is nothing more truthful than this: Yankee fans hate the Red Sox and Red Sox fans hate the Yankees. Arguably one of the most heated rivalries in sports' history, the New York Yankees and Boston Red Sox are currently facing off in the 2018 American League Division series. Both teams have had tremendous winning seasons this year, all thanks to their star players including Boston's J.D. Martinez and Mookie Betts and New York's Aaron Judge and Giancarlo Stanton. Because of the teams' similar successful performances, regular season games this year have especially been exciting to watch. Fans in Yankee Stadium and Fenway Park seem to be more electrified and prideful than ever more, cheering on their favorite team while rooting against their archenemy.
All sports fans instantly recognize the tension between the players and fan-bases on both sides. When thinking about this rivalry, some notable moments come to mind: Pedro Martinez throwing punches at Yankee coach Don Zimmer during a brawl in the 2003 ALCS, Jason Varitek and Alex Rodriguez starting a fight in 2004, the Red Sox breaking "The Curse of the Bambino" that same year, Ryan Dempster purposely hitting A-Rod with a pitch following his PED-suspension in 2013…A-Rod responding with a home run a few innings later, and the list continues. The hatred between the two teams is obviously present (and will definitely be around for years to come), but what initiated all of this in the first place?
It all started in the 1900s because of a player by the name of Babe Ruth. After playing for Boston from 1914 to 1919, a time when the team had thrived because of Ruth's standout abilities on the mound and at the plate, owner Harry Frazee sold him to the New York Yankees due to controversial issues (Babe liked to get into trouble off the field). This began "The Curse of the Bambino," a period when New York would begin a triumphant run with several championships, while Boston would fall into mediocrity and not win a ring for another 90 or so years. Ruth would lead the Yankees to the World Series seven times and win four of them. During the span from the early 1900s to early 2000s, the Yankees would win 26 World Series championships and win 39 pennants, while Boston would win no championships with only four pennants. Throughout these years, the two teams would not be friendly with each other.
For the next hundred years, there would be notable playoff matchups, vicious brawls, and clutch plays that show what the rivalry is all about. The competitive nature between both franchises would spark energy in the baseball world and imbed significant moments in sports history. The 2018 American League Division Series is just another component of the rivalry, and only time will tell what will be written in baseball's history books.