My Opinion of the Player's Tribune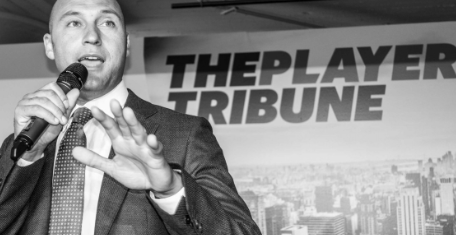 What is The Players' Tribune? This media platform is a website created in 2014 by former Yankee great Derek Jeter. It features articles in the first person perspective of professional athletes, including players of the NFL, NBA, WNBA, Hockey, Soccer, Baseball, and even eSports. The segments focus on athletes' personal narratives on and off the field, ranging from anecdotes about success on the court to stories about overcoming drug addiction and other hardships. In the articles, the athletes typically express their feelings and try to send across a message, whether it be gratitude towards his/her fans or a fight for a change in society. By doing so, these men and women express their beliefs and thoughts to the world for the better good, rather than solely performing in their respective sports.
I myself have been a reader of the platform for a few years. Following Derek Jeter's announced retirement in 2014, I remember discovering his initial startup of the website. In the first published article, titled "The Start of Something New," Jeter discusses his final professional season in the big leagues and his outlook towards the future. He emphasizes his perspective on the role of professional athletes in the media and how the goal of his website's startup is to "ultimately transform how athletes and newsmakers share information, bringing fans closer than ever to the games they love." Since then, stars like Stephen Curry, David Ortiz, Russell Wilson, and countless others have communicated with the world through first-person narratives.
My favorite part of the website is how personally it conveys the life of professional athletes. Rather than solely looking at one's athletic statistics, awards, and highlights, the website provides a personal story and message, making these people seem more like human beings and less like robotic celebrities. In addition, it has broadened my horizons regarding my interests in the sports world. Despite mainly being a huge baseball fan, I have developed a new respect and admiration for athletes of other professional sports, some of whom I had never even heard of before.
All in all, I think that The Players' Tribune is a unique, valuable platform to connect professional athletes to the rest of the world. I recommend this to anyone who has an interest in sports and would find others' life stories intriguing. Being exposed to these writings can lead to a new outlook on influential professional athletes and a newfound respect for those competing on and off the field.