A New Generation of Pop-Rock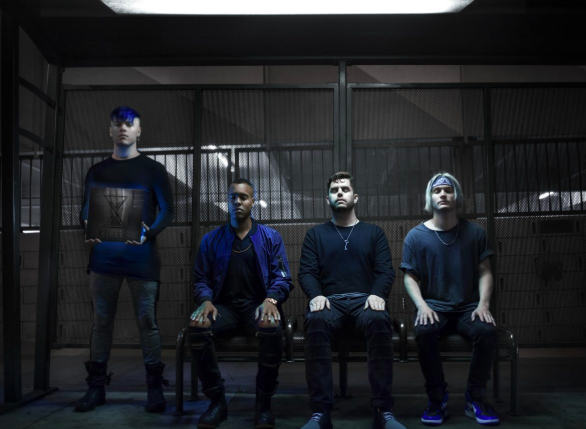 Hang on for a minute...we're trying to find some more stories you might like.
Many of you may have listened to or heard mentions of artists and bands such as "The Rolling Stones", "Fall Out Boy", "My Chemical Romance", and "Green Day". These bands are all classified as "Pop Rock", a genre of music that was first started around the 1950's as an alternative version of rock and roll that focused more on the arrangement of the beats in a song, than the feeling given off. It targeted a younger audience, as it is a more subdued version of rock and roll. Upcoming are three bands that you will love if you liked any of those mentioned above.
First off is "Set It Off", a four-man band based in Los Angeles, California composed of Cody Carson, Dan Clermont, Zach DeWall, and Maxx Danziger founded in 2008. Respectively these are the vocalist, two guitarists, and the drummer. They are known for making loud rock music with catchy tunes, but their real trademark is their both edgy and dance-worthy music, combining two already great ideas and making an even better one. Some of their most popular songs are "Wolf In Sheep's Clothing," "Why Worry," "Hypnotized," "I'll Sleep When I'm Dead," and "Partners In Crime." Credit: Fearless Records
Next up on the list is "Against The Current". What started off as a small cover band on Youtube with Chrissy Costanza as the vocalist, the guitarist Dan Gow, and the drummer Will Ferri, soon started writing their own songs. Starting off tentatively with their first album Infinity, which was an unexpected success, they continued to produce more albums. ATC's music style is more of a jam-out type than that to which one would party. Currently, their five most popular releases are "Gravity," "Running With The Wild Things," "Outsiders," and "Dreaming Alone."
Last but not least on this list is a well-known title that many of you may have heard before… "Panic! At The Disco!" The group was originally composed of four childhood friends, Ryan Ross, Spencer Smith, Brendon Urie, and Brent Wilson and was founded in 2004. There have been many changes to the band roster since 2006, however, eventually, there was only Brendon Urie left as a standing member of P!ATD, with Dallon Weekes, who joined in 2010, in the background. The music style of P!ATD has been labeled as emo before, which was vehemently rejected by Brendon Urie as they are an alternative rock band, and he felt that such a categorization would turn away potential fans and make them a more niche band. Their music is pop-rock with just the right mix of soft chords, and sudden crescendos. "Panic! At The Disco" has come out with many memorable songs, but by far their most popular ones are "This is Gospel," "Hallelujah," "I Write Sins Not Tragedies," and "Death of a Bachelor."