Varsity Soccer Team Update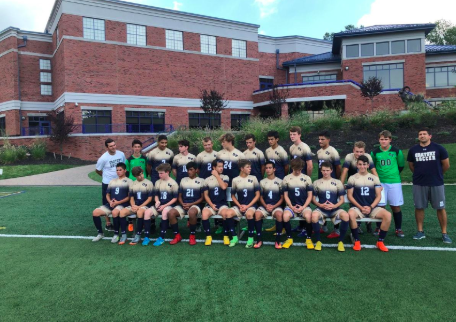 Despite the strenuous, hot summer days of preseason practices, Oratory's soccer team worked hard to prepare for success in the approaching season. Under the leadership of captains Senior Jake Wright and Junior Steven Fudenna, the players, the majority of whom were on last year's varsity team, were ready to take on the challenging 2018 season.
After a 0-2-1 start to season against Johnson, Union, and Governor Livingston, the Oratory varsity soccer team got their first win of the season against David Brearley with a score of 4-2: Jake Wright, Nick Jardim, Nick Carnevale, and Jack Massella all found the back of the net while senior Nick Sannito showed a solid appearance in goal. 5 days later, the team earned a 2-1 win over Dayton 2-1, highlighted by Junior Nick Jardim's big game with 2 goals. Most recently this past Saturday, 8 seniors were honored on senior day with a 4-1 win over Morristown Beard. Goals were scored by Andrew Stauffer (2), James Schneider, and Drew St. Amant while keepers Nick Sannito and Jack Coyne had 4 total saves in goal.
The team's current record stands at 3-3-1, with much more soccer to be played for the rest of the season. As many people have come to these first few games, students can continue to support the team at as many games as possible, especially the home game against rival New Providence on October 18.
As the season goes on, the soccer team will continue to battle within their conference against Union, Governor Livingston, Dayton, New Providence, Linden, and Johnson: they can expect to finish high in the UCC-Mountain division. In addition, they will look to eventually compete in the county and state tournament and make a mark in OP soccer history.