OP Varsity Baseball Update #2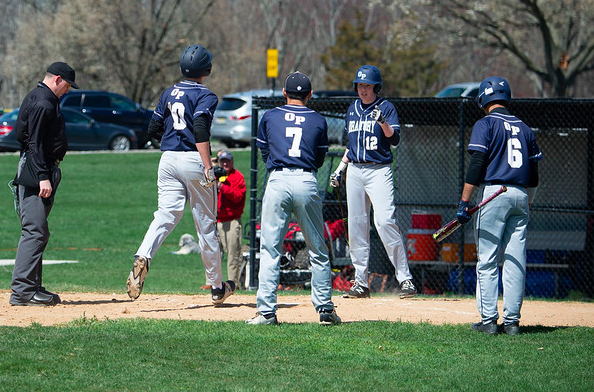 Oratory's varsity baseball team continued their successful season this past week. Heading into the week with a record of 9-6, the team was looking to get their wins in double digits, a goal from the start of the season.
On Tuesday, May 8, the team went on the road to play a conference game against Roselle Catholic. The bats were red hot, as the entire lineup racked up 19 runs on 18 hits while giving up 8 runs. The game was highlighted by a home run from junior Andrew Meisner, a pitcher-only player who hadn't swung a bat the whole season. The next day the team was back on the road against Blair Academy, where the offense surged once again. On 12 hits, the team scored 18 runs while limiting Blair to 6 runs. Junior Nick Demarinis hit his third home run of the year while driving in 6 runs in the whole game.
Thursday's game was a nail-biter, as Andrew Meisner was in a pitcher's duel against conference-rival Dayton. Neither team was able to score a run in 6 innings, but the bottom of the seventh proved to be the decisive moment. Joe Del Sol started things off with a single to right field and moved to second base on a sacrifice bunt by Ben Landis. Nick Sannito drove Del Sol in with a grounder to second base, giving the Rams the win on a walk off. This win gave the team a record of 7-2 in the conference, placing the team in second place behind Rahway.
Although the week ended on Friday with a loss against a strong Morris Catholic team, the Rams were able to play very well in crucial moments. The team has an overall record of 12-7 and will look to continue their success on Monday night under the lights against cross-town rival Summit.