OP Baseball Team Off to Solid Start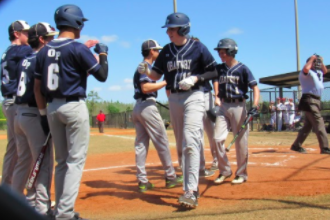 After playing several scrimmages in New Jersey and Florida, Oratory's varsity baseball team was well prepared for the spring season. The team started off with a win on April 5 against David Brearley. Starting pitcher Andrew Meisner earned the win, only giving up 2 runs in his complete game. Offensively, the entire lineup contributed, getting 10 hits and scoring 8 runs.
The next day, the team suffered a 10-5 loss against Pennington. However, they bounced back the following day, defeating Roselle Catholic 10-1. Once again, the entire lineup participated in the action, smacking 11 hits. Pitcher Jack Reilly went the distance, only giving up one run in seven innings.
On April 9, the Rams played Rahway and the score was 6-9 after the bottom of the sixth inning. As the opposing team had showed up late, the game could not be finished in time and will be continued the next time the teams play each other.
Oratory started to find its groove the very next day, beating Roselle Park 8-5. The team rallied 15 hits and played great defense behind pitcher Andrew Meisner. Junior Nick Demarinis closed the game on the mound. The Rams earned another victory on April 12 by defeating Dayton 13-11 in a nail-biter. After developing a 12-5 lead, the team gave up six runs in the bottom of the sixth inning, cutting the lead to one run. However, with key hits in the top of the 7th, the Rams maintained a 13-11 lead in the final inning. Matt Bernardo, Patrick Tobin, and Nick Demarinis had strong outings on the mound while Will Demilt led the offense with 4 hits and 5 RBIs.
The team finished the week with a win over Gill St. Bernard's. As the team had been doing so the whole season, the entire lineup from top to bottom contributed to the run-producing offense. They gathered 13 hits and scored 13 runs, while pitchers Jack Reilly, Joe Gaffney, and Joe Moran limited Gill to 11 runs.
So far, the Rams baseball team are 4-1 in the conference and 5-2 overall. Through these first few games, the team has found a great strength in hitting and producing runs. In addition, the defense has been able to perform in key moments, leading to less runs scored by the other team. As the season goes on, the Rams will prove to be one of the best teams in the conference while developing a winning record.