Looking at Wedding Customs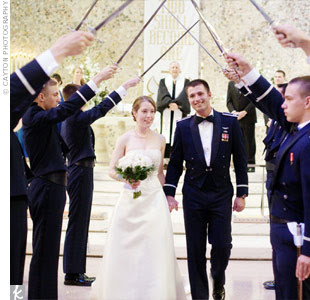 Hang on for a minute...we're trying to find some more stories you might like.
This past weekend, I went to a wonderful wedding in Atlanta, Georgia. While most weddings are standard in the way they run, there are a few neat reasons why people stand where they do.
Naturally, a wedding starts off with everyone walking down the aisle. But, if you notice, the men are always on the right side. Why you might ask? Well, if a man was holding his lady with his left hand that meant his right arm was free. And if the wedding was to be crashed by men trying to capture the bride, the groom and his groomsmen would have their right hands (the hand the hold swords with) open and ready to defend.
So yeah, fun little fact. Also, the whole ceremony wedding thing is not actually a rulebook, more so a guideline. I went to this wedding in Georgia, and the couple had been dating for 9 years before they were married. Naturally, they had lots of love letters to share. And it turns out that is completely acceptable to read one of those at a wedding. I assumed that it was custom to just say the vows, and that's how it was. But also you can add whatever you want which is pretty cool.
And then, there is room to make it your own. I'm not sure but at one point the pastor went off about the groom staring at the brides hands and saying, "these are the hands that (heal you, feed you, etc…)" In my experience with weddings, I've never heard that before but it's your wedding so do what you want.
And with that, I bid you adieu. Enjoy your weddings knowing a bit more about these events.
Photo Credit: http://www.bridebox.com/blog/saluting-military-wedding-traditions/

Cole Noss, Staff Writer
Hello, I am Cole Noss. I am a member of the Class of 2020. In addition to writing for the Omega, I am also part of the History and Politics, Saint Philip...