Black Panther Review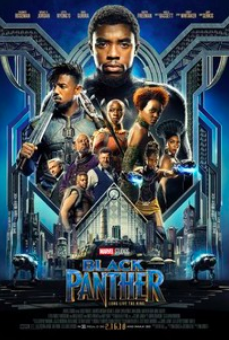 Hang on for a minute...we're trying to find some more stories you might like.
Since the beginning of film, African-Americans have been underrepresented in film, especially in major blockbusters. However, Marvel's Black Panther is here to change that and is an inherently "black" film. It is written and directed by African-American wunderkind Ryan Coogler (Creed, Fruitvale Station) who is quickly establishing himself as one of the best directors working today. The story picks up with T'Challa being coronated as the king of Wakanda following the death of his father and focuses on his journey to truly "earning" this title. The movie shines when it is dealing with the inner turmoil and conflict that T'Challa has to learn to deal with in order to become a better king. These questions are poised to him with the arrival of Erik Killmonger, played brilliantly by Michael B. Jordan (Creed, Fruitvale Station). After starring in Coogler's first two movies, this movie firmly establishes Coogler and Jordan as possibly the best actor-director collaborations working today outside of Scorsese/Dicaprio and Tarantino/Samuel L. Jackson. Jordan is spectacular in this movie, and Coogler, along with co-writer Joe Robert Cole, perfectly creates a morally conflicted villain who actually has compelling arguments.
Even though Jordan is spectacular in this movie, the supporting characters truly steal the show. Lupita Nyong'o (12 Years a Slave, Star Wars: The Force Awakens), Danai Gurira (The Walking Dead) plus relative newcomers Winston Duke and Letitia Wright take this movie to another level. Each gives extremely powerful performances that could have easily fallen into cliches but they injected their characters with such depth that they feel whole. Gurira and Duke especially shine, as Okoye and M'Baku, respectively, as both are unbelievably talented as action stars but are still able to retain a sense of humanity even though they are otherworldly fighters because of the levity they are able to show. This young cast is also held together by a world-class group of veteran actors including Oscar-winner Forest Whitaker (The Last King of Scotland, Arrival), Sterling K. Brown (This is Us), and Angela Bassett (9-1-1, American Horror Story) who add such gravity to each scene and give the film a sense of prestige that would not have been there otherwise.
This film gets all the major elements right, with the cast, screenplay, revolutionary costume design by Ruth Carter and the direction of Ryan Coogler. The action set-piece in South Korea is one of the best action sequences in recent years which is a testament to how brilliant Coogler is. Even though the film is outstanding, it still possesses flaws. Boseman's T'Challa is the least interesting character in what is his movie but this could be attributed to poor writing or the intention of showing how a king can be great because of the people they surround themselves with. Additionally, the second act does drag down the film as it relies on a convenient character twist and turning sides even though it was not developed well.
All of the flaws aside, Black Panther is a triumph of blockbuster filmmaking. It is a fun, fully-developed, and well-crafted film that appeals to people of all ages and backgrounds. While it is not in my top three Marvel Cinematic Universe movies, Black Panther is one of the best blockbusters in recent years and will be remembered for years to come.
Black Panther: 8.75 out of 10
Photo Credit: https://www.rottentomatoes.com/m/black_panther_2018/