2018 Swimming Prep Championship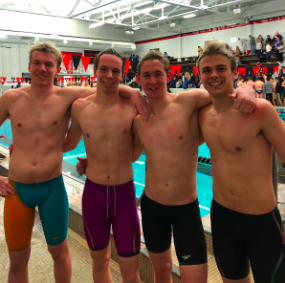 On Tuesday, February 6th, the Oratory Prep swim team had many impressive showings at the 2018 Prep Championships at the Lawrenceville School. This four hour meet featured sixteen prep schools divided into two divisions, A and B. OP swam in the A division and posted many impressive times and scores throughout the meet.
The tried and true 200 Medley Relay Team of Ian Ellmer, Aidan Herrighty, Patrick Heffernan, and Andrew Meisner came in fifth with a time of 1.43.42.  Two OP swimmers then placed in the 200 Free with Luke Bernstein finishing 16th and Andrew Meisner coming in eighth. One of NJ.com's Fresh faces in Boys Swimming Patrick Herrighty ended up 15th in the 200 IM with a time of 2:14.77. Senior Aidan Herrighty finished 12th in the incredibly fast 50 free with a personal best of 23.02.
After a twenty minute breaking during which many exhibition 50 Free's were swam, OP kept going strong with two swimmers placing in the 100 Fly. Mike Cantaluppi finished 17th with a personal best of 1.00.95 and Patrick Heffernan came in fifth with a 54.10. In the 100 Free, Ian Ellmer came even closer to breaking 50 seconds with a time of 50.96 that earned him 12th. Three out of four OP swimmers who swam in the 500 Freestyle, placed with Luke Bernstein coming in 13th with a personal best of 5.38.64. Our other two swimmers Patrick Heffernan and Andrew Meisner swam right next to one another in the final heat of the event with Heffernan coming in fourth with a 5.00.63, just edging out Meisner's fifth place finish of 5.00.77.  After this incredibly successful event, the 200 Freestyle Relay team of Nick Kardis, Patrick Herrighty, Drew St. Amant and Mike Cantaluppi came in 10th with a 1.41.00.
The final three events of the meet also featured Oratory successes with Ian Ellmer coming in 11th in the 100 Back with a 58.41. Three OP swimmers again placed in one event with Sam Ilagan coming in 17th in the 100 Breastroke with a 1.12.43, Patrick Herrighty finished 14th with 1.08.99 and Aidan Herrighty ended up in 9th with a 1.03.21.  Finally, the 400 Freestyle Relay team of Meisner, Aidan Herrighty, Heffernan, and Ellmer had an incredible swim that secured a 5th place finish in the event and gave the team the final push they needed to secure their overall position. The team swam a 3.22.61 which qualified them for the Meet of Champions competition in March and broke the school record.
Throughout the entire meet, the OP swim team had at least one swimmer who placed in every single event. Every single one of these finishes gave the team points which brought them to an overall total of 225 points. With this, OP came in 5th overall and 4th in Division A. They finished behind The Pingry School who blew away all other teams, The Delbarton School then came in second, and The Lawrenceville School finished third. The Pennington School was the only Division B school that finished ahead of Oratory as they came in Fourth. The OP Swim Team will be back in the water on February 19th as they try to secure their second straight berth into the Non-Public B final with a semifinal meet at the Neptune Aquatic Center.