Mock Trial Enters Regional Finals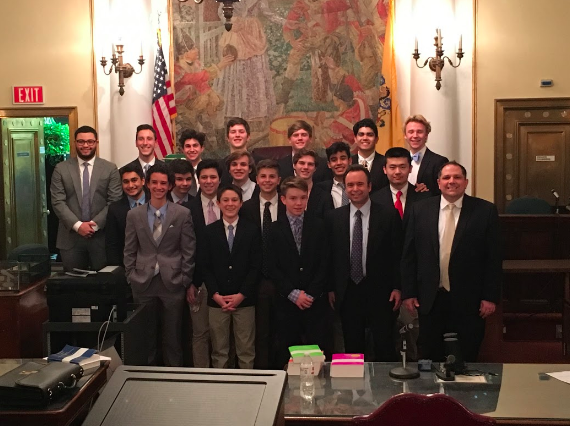 Hang on for a minute...we're trying to find some more stories you might like.
"The key is not the will to win … everybody has that. It is the will to prepare to win that is important." Each member of the Oratory Mock Trial team tries to embody Bobby Knight's words to the fullest extent. Preparation makes the difference in a close trial and could also be the decisive factor in winning or losing a championship. That is the reason for the months of dedication and hard work put forth by the students choosing to carry on the greatness of Oratory's Mock Trial Program. Oratory won the county finals against Kent Place a little over one week ago on January 30. This most recent county win extended their streak of seven consecutive county titles. Two days later, Oratory faced off against Doane Academy in the morning and Voorhees later in the Regional Semi-Final. Each participating person performed at the highest level and helped win both in a single elimination tournament. The team captains, Joseph D'Angelo and Nicholas Sannito, were exceptional in their respective attorney roles. The witnesses, Junior Fernando Aviles, Freshman Will Sanyour, Junior Jake Wright, Senior Jacob Greenberg, and Senior Ryan Briggs, also played large parts. They were all put in positions to succeed by coaches Mr. Martin, alumni Scott Turtur, Mr. Scirocco, and Mr. Meehan. Each coach has improved the team in one way or another and they all have been instrumental in their success. The next competition, the Regional Finals, could be a test, but they are confident in their own abilities and hope to keep moving forward past States and into Nationals.