OP Welcomes Back Joel Hilchey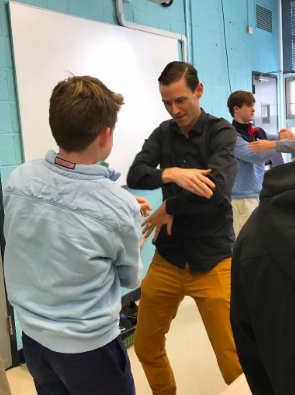 Joe Meade, Staff Writer
January 2, 2018
Hang on for a minute...we're trying to find some more stories you might like.
On Thursday, December 14th, many Oratorians were awakened with the appearance of snow all around. While this was not the most thrilling site, imagine having to get up early and fly into the madness all the way from Toronto. That is what exactly what Oratory's guest speaker Joel Hilchey had to do. Even though this was not Joel's first time at Oratory (he spoke here in 2014), this was the first time he came to Summit with a snowstorm raging. While Joel spoke to the whole school in the afternoon, he worked with the Student Council all morning long. Joel took the group through various activities ranging from complex handshakes to rat trap exercises. In the rat trap exercises, Joel took most students out of their comfort zone and encouraged students to go all in when taking a risk. The students would put their hand on top of a loaded mouse trap and would quickly pull their hand off to avoid being trapped. Besides risk management, Joel gave the group advice about time management, delegation, and communication.
After the workshop, Joel talked to the entire student body. Joel amazed them with his juggling skills, magic tricks, and humorous stories. Joel talked about so many things that stuck with everyone which ranged from taking criticism to dealing with emotions and interacting with others. He led the student body through engaging exercises and even made a remix to describe how others' comments can add up. After Joel's long day of workshops and speaking, Joel went back to the airport and boarded a flight back to Toronto. While this seems absolutely insane, Joel told me days like these were regular occurrences. Joel claims to be an amateur juggler, magician, and entertainer, however, everyone in that room and everyone who knew his rigorous schedule would claim that he was a master in all of those fields. Thanks again to Joel for coming back to OP!