Featured Holiday: Hypemas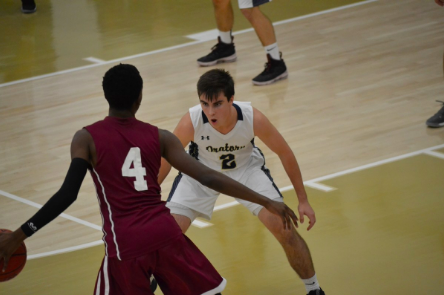 A whole new holiday has been created to honor a select few who possess a unique talent here at Oratory. The date for this celebration time varies each year to match the date of the first official basketball game to begin the season. Students at Oratory call this event Hypemas and are blessed to watch all three OP basketball teams leaving it all on the court for their home openers. All three games were interesting to watch despite not all being exciting wins for the Rams. The freshmen played Bishop Ahr and showed glimpses of what they could become in future. They might not have been pleased with the result, but made a resurgence in the second half that showed how persistence can pay off in the end. Junior Varsity played Roselle Park next in the Degaeta Gym and gained an early lead that seemed to never stop increasing. The game concluded with the final buzzer and the scoreboard showed Oratory's JV team blowing out Roselle Park by more than 20 points for the first win in the new gym.
However, the main attraction for the night was yet to come when that buzzer sounded, and everybody in the stands awaited the start of the Varsity game. These were the best basketball players from each school fighting each other for their first win of the young 2017-2018 season. The first whistle blew signaling the tip-off and both teams were tightly contested throughout the entire contest. Senior AJ Kopacz scored a game high for Oratory with 17 hard earned points. Sophomore Peter Byrne added on with his own 13 points. Fans looking at the game could see a resemblance between two players in particular. These two were numbers 1 and 20 and one being a sophomore while twenty is a junior. These two looked so much alike because they are brothers by the names of Casey and Declan McKee. They've got a connection that runs deeper than the court and one could see that as a casual viewer. As the last whistle sounded, meaning that the game had ended, fans could look up and see the score 44-37 in favor of the home team. The crowd was ecstatic and the court was quickly rushed with family members, friends, students, and teachers.
This day meant more to each coach and player than any ordinary viewer in the stands would begin to suspect. December 15, 2017, will be written down in history as the first official games for each respective level in the newly built DeGaeta Gym. Two of three games finished with Oratory as the victors and that led it to be a successful day for Oratory's basketball program as a whole. This may only be the teams' first win, but let's hope that it can foreshadow much more to come.