Christmas at OP Spirit Shoppe: Interview with Director Mrs. Guider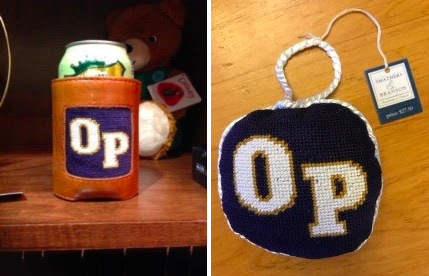 Deck the halls and find your Ram Christmas spirit, the Oratory Prep Spirit Shoppe is open for business and ready to help spread holiday cheer.  I recently had the opportunity to interview the Shoppe director Mrs. Guider about her experiences running it and what is coming new for the Christmas season.
Mrs. Guider has been associated with the Spirit Shoppe for four years, starting as an assistant to the former chairperson and taking over the process the year after. During her career, she has mastered the process by communicating with her son Dan and his friends for their opinions regarding new products. Mrs. Guider also works with several vendors who show their lines and accessories for college stores, and then she picks which items are to be sold at the Spirit Shoppe. Out of all the items she has chosen, the three most popular items in increasing order of popularity are ¼ zip pullovers, hooded sweatshirts, and new polos from Johnnie-O and Under Armour.
With the holidays coming soon, there have been many new additions to the Spirit Shoppe's lineup that will complete your holiday gift repertoire. New Johnnie-O quarter-zips and polos can be found along with new female ¼ zips from E-S Sports. But that's not all! Just in time for the Christmas season, Smathers & Branson can coolers and ornaments can be found at the Spirit Shoppe. These amazing gifts are perfect ways to complete your Christmas ensemble and put a smile on anyone who receives these amazing items.
When asked about her experiences, Mrs. Guider says that her favorite part about working about the Shoppe is her interactions with all the students, parents, faculty, and staff, saying that "It has been a wonderful way to get to know the OP community." She also extremely enjoys the connection she has been able to foster with other Spirit Shoppe volunteers and commends them for their tireless work "at each event selling merchandise, constantly packing and unpacking boxes, and helping with sales each day we are open." Over her career in the Shoppe, Mrs. Guider's favorite event to sell at is an event newly added this year to the lineup, the Parent-Teacher Conferences. This Shoppe was open for both days of this event and had very impressive sales. However, this was not the best part for Mrs. Guider, saying that she enjoyed this event so much because they "didn't have to move our merchandise to a different location, as we sometimes need to do."
For her final thoughts regarding the Spirit Shoppe, Mrs. Guider commented on the changes she has seen during her time at OP. By far, the biggest improvement was the addition of the "beautiful new space in DeGaeta Hall which allows our customers to come in and see our merchandise on display." She is also pleased by the fact that the Spirit Shoppe's inventory has grown to include a wide variety of clothing items and accessories spurred on by the growth of enrollment which guarantees that everyone can find something that they like at the Spirit Shoppe to show their Oratory Prep spirit.