Eli Manning – A Giant Issue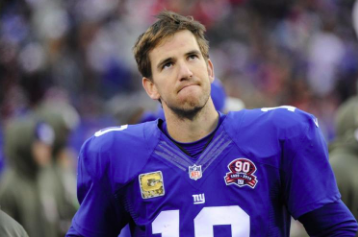 Hang on for a minute...we're trying to find some more stories you might like.
Most know Eli Manning for the outstanding football player he has been for the New York Giants. His accomplishment list seems to be endless and includes two Super Bowl MVPs and a streak of 210 consecutive games played. There can be no words to fully describe his loyalty towards the Giants organization from the very beginning and also his positive influence as a person in our local community. Some people have been lucky enough to encounter him around Summit as he lives in the same town as Oratory. Consequently, many people have grown to be fond of Eli as a player and a person. His personality is one that any person would like to work with, and you cannot measure his service to our communities. He has been honored as the NFL Man of the Year for all the help he provides. Although he has started as the Giants quarterback for almost 14 years, a great disservice has been committed involving him doing what he loves. He has always been there for the team and has brought them much success in his prolonged career. However, they decided to bench him for their most recent game against the Oakland Raiders on December 3. The reason for this absurd course of action was supposed because he did not give them the best chance to win the game. This reasoning aggravated the Giants' fanbase and created a poor outlook on an already terrible season. Each person who followed the Giants with a passion knew that Eli obviously gave them the greatest chance to be successful. This might have been understandable considering they wished to see younger quarterbacks they had on their roster because of their top draft pick the following season. However, Eli's benching broke his consecutive games started streak that ranked second all-time for his position. Additionally, they permitted a quarterback who had been on the team for 6 months to start in his absence. The higher-ups of the Giant franchise handled this manner concerning one of their most loyal players in a completely wrong manner. Their coach and general manager have both been recently fired partly due to this incident. The Giants as a whole are being evaluated by all and need to find the answer they've been looking for or else there will be chaos.
Photo Credit: http://www.nydailynews.com