Mr. McCrystal's History Adventures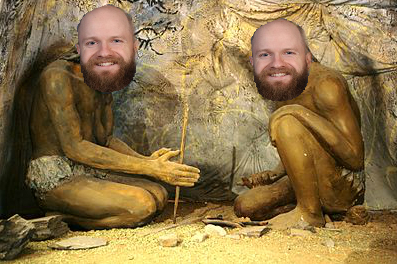 Hang on for a minute...we're trying to find some more stories you might like.
Many students at Oratory have been a part of a class, club or sport that Mr. McCrystal has taught, administered, or coached. But with such a knowledge of history, I knew there was something he wasn't telling us. As a result, I came up with the Many McCrystals theory, a theory that speculates that Mr. McCrystal has cloned himself and sent himself back in time to experience events as they unfolded. My evidence comes from high quality photos discovered at these events.
The first event I have found evidence of this is the discovery of fire. It is unknown of the date of this event, but it was a very important time in human history. Mr. McCrystal happens to be there, and he is creating the fire in this image. Either Mr. McCrystal is an eternal being or he used time-travel and cloning. Since we are a Catholic newspaper it's definitely time-travel and cloning. But why would Mr. McCrystal hide such advancements in science from us? Maybe it is the butterfly effect, but, unless he tells us personally why he has kept these advances from us, we will never know the truth. Come back next week when we investigate this mystery even further and look at more evidence surrounding this theory.
Photo Credit: National Museum of Mongolian History and Oratory Prep