Why Are Saturdays for the Boys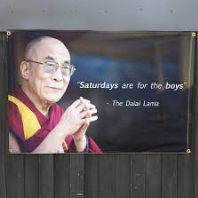 Hang on for a minute...we're trying to find some more stories you might like.
In this day in age, the most popular saying that flies around is "Saturday's are for the Boys," seen mostly as "SAFTB." Most people see this but do not understand the actual meaning behind it; why should Saturdays truly be for the boys? I've gathered a few opinions along with my own to hopefully demyth this sacred saying.
Its origin comes from a satirical sports blog, Barstool that has grown into a large company, doing reviews on basically everything today. Barstool has many sections that attract both genders, whether it be "Chicks in the Office" or "Barstool Video Games." Although it is mainly steered towards younger generations, some adults still find it relatively humorous.
"Saturdays are for the Boys" is most definitely Barstool's claim to fame. Everyone in college and high school knows the saying, while some stick to it almost religiously. This saying, however, is still confusing to girlfriends. Girlfriends believe that everyday is for the girlfriend and that boyfriends are only permitted to go out when they are allowed to (when the girlfriend is busy). It can be seen through video evidence that this is often a rough subject between couples, especially on Saturdays. What girlfriends do not understand is that it is still important to make time for the boys, even when someone is in a serious relationship.
Saturday is the world's most popular party day. Throughout elementary, middle, and high school, Saturdays have been the day for sleepovers or shindigs since there is no school the next day. Spending this teenage holy day with one person is often considered wasting a day, and this is why Saturdays are meant to be for the boys. The boys often hang out in large groups, whether it is to play football or stay in the house and play Xbox. One thing that is never disputed is that hanging with the boys is always a good time. So, instead of sitting in and watching the Notebook on repeat all night, why not go have fun with your buddies?
Colin Martin has a few theories and opinions on this phrase as well. He says,  "Saturdays are for the boys, this is indisputable. Sundays are for our Lord, who is the father of man, so when shall we marvel in his creation? The answer is: on Saturdays." As you can see, Colin associates this motto with his religious beliefs. The use of religion in one's explanation obviously makes this an infallible reasoning as Colin recalls, "The boys work hard all week and Saturday is the day in which we play hard, party hard, and most importantly, study hard [together]."
Overall, it is evident that this is a very important aspect of a young man's life. It helps balance the girlfriend life while also leaving time to stay in touch with your friends. There are many times in history that a man is lost to his girlfriend and breaks away from the friend group. Funerals have been held and tears have been shed, but the ones who survive are praised for their bravery to stand up to their girlfriend and say "No Babe, Saturday's are for the boys."
Photo Credit: https://www.unclereco.com