New Swim Coach DeSantis Interview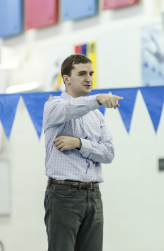 As the swim season is fast approaching, Oratory Prep has finally unveiled their new swim coach, Chris DeSantis.  Mr. DeSantis comes to OP after coaching at the University of Pennsylvania, Georgia Tech, and for the Denmark National Junior Team.  I recently had the opportunity to interview the new coach and learn about his background, opinions, and hopes for the Oratory Swim Season.
Even without having a chance to evaluate the team in practice, Coach DeSantis has a few goals for the team that he likes to bring to everyone he coaches.  His hopes are for all "the swimmers to be able to look back on the season as a really fun experience. He also wishes that "every swimmer sees massive improvement" and believes that "any specific competitive goals will come if we accomplish those two things first."  In order to execute these goals, the OP swim team needs swimmers and Mr. DeSantis says that "everyone is welcome even if they don't have competitive swimming experience."  He has "have full confidence that if they [OP men] truly want to, they can find a way to contribute to the team.  Also, they should set aside whatever preconceptions they have of what the swim team will be like —  my practices are very different from traditional swimming practices with a higher focus on racing and skill development." While Coach DeSantis is unsure of any specific strengths or weakness of the OP Swim Team, he is confident that no matter who the competition is, his hopes are for all the swimmers to improve in the strokes and events they are weaker in.  He gives an example of a swimmer he coached at Georgia Tech who had never broken one minute in his 100 breaststroke go to 54 seconds while under his direction.
To shape his swim practices, Mr. DeSantis swim three times every week and uses himself as the guinea pig for anything he might ask of the swimmers in practice. He goes on to say that "he loves swimming and plans on competing and coaching it for a long time." This commitment, he believes, helps his coaching style as it "keeps me in touch with what the swimmers are experiencing in the water." Finally, being able to swim on a regular basis helps Coach DeSantis "evaluate his reasons for doing different things. [He] never want to do something in practice just because" and is always trying "to evaluate what the reasons for doing the activity are." All of these activities in the lead up to any practice or meet help the swimmers fulfill Mr. DeSantis' motto: "Faster swimming comes after many more important matters."  
This motto is the culmination of thousands of hours on pool decks coaching hundreds, possibly thousands of swimmers and a degree in Positive Psychology for the University of Pennsylvania.  DeSantis was the first full time professional coach to go through the program and briefly explains it as the study of "how people thrive emotionally, in relationships and experiences and that sports are a really great way for people to learn about this topic and use it for the rest of their life." As a final message to all OP swimmers and those students thinking about joining the team, Coach DeSantis says "Whatever you might think is possible this next season, dream bigger. I'm never going to be the one to tell you something is impossible — we'll just go after it together." It is fair to say that everyone involved with Oratory Prep swimming is thrilled by the new swim coach and are extremely excited about what he will bring to the program.
Photo Credit: https://goo.gl/pnLpXv