OPXC Feature: The Old Men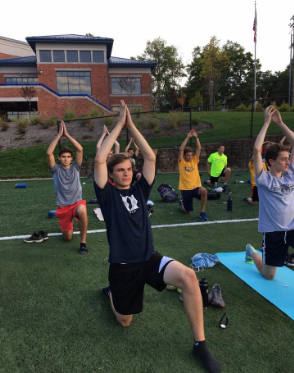 Joe Meade, Staff Writer
October 10, 2017
Hang on for a minute...we're trying to find some more stories you might like.
Cross country is one of Oratory's most successful athletic programs. Prominently, the cross country team consists of more than 40-45 runners a year. Since the team is so large, the team is divided up into running groups of about six or seven during practice. The groups are often given names such as "Top Group", "The Pack", or "The Barrels". However, the consensus most diverse and fun group is "The Old Man Group",  better known as "The Old Men". "The Old Men" consists of Seniors John Lally, Liem Lynch, Jack Munro, and Lucas Toglia, and Juniors Joe Meade and Nick Mascolo.  While the group has many unique attributes, some of the notable ones include "Old Man" Munro looking in pain while running, Joe Meade's heavy breathing, John Lally's hair flowing in the wind, and comedic stories from Liem Lunch, Lucas Toglia, and Nick Mascolo. At the beginning of the year, many suggested that we run to the song Hurt by Johnny Cash. The song fits the group well. The name "Old Men" is not just a label for our age (we are among the eldest of the team), rather it is a fitting name for our hobbies while running. We often discuss the glory days when we dominated Pee-Wee sports and when our bodies were indestructible (like many actual elders). After our run, we treasure stretching and rest. We also hope to avoid small grievances such as bee stings, rough terrain, and humidity. The Old Men are all great and approachable guys and really help create the great team spirit of the cross country team. You can catch the Old Men in action at an upcoming meet.
Photo Information: "Old Man Group" member Jack Munro enjoys a stretch after a long run. Stretching is a favorite among the "Old Men".