OP Open House: A Tour Guide's Perspective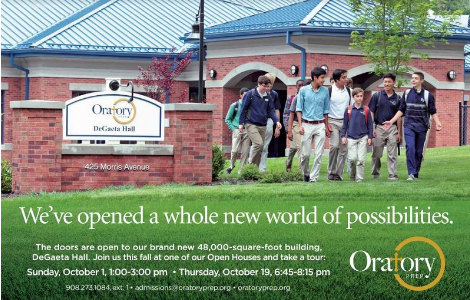 Hang on for a minute...we're trying to find some more stories you might like.
Sunday, October 1 marked a special event for the Oratory Preparatory School. Sunday was an Open House for many prospective Oratory students and parents. However, this Sunday's Open House marked the first time where DeGaeta Hall held the event. Many of you have been to an Open House and know that there are many teachers and students representing their respective clubs, athletic programs, and educational departments. I had the honor of being an ambassador for the school as well. But my task was far different. I was tasked with touring the prospective families around the campus (new and old) and describing what those areas are used for. This made the tour a little longer than usual. Yet, no group faded in attention; their eyes widened when they saw the beautiful offices, Bio Lab, and, of course, the weight room at DaGaeta. Another major hit was the cafeteria. I even had some alumni who had family members looking at OP widen their eyes a few times on my tours. In addition to showing off the campus, I had to answer any questions my tour group had and talk about my own experience here at OP. The experience was very fun because it did not feel forced; my tour was filled with all natural knowledge that I shared with my tour groups. After two hours of touring, the Open House ended. While my voice was a little sore from projecting enthusiastically, it was nothing in comparison to the idea of knowing that many prospective students loved the campus and overall community of Oratory Prep.