Alejandro Villanueva and the NFL's Anthem Debate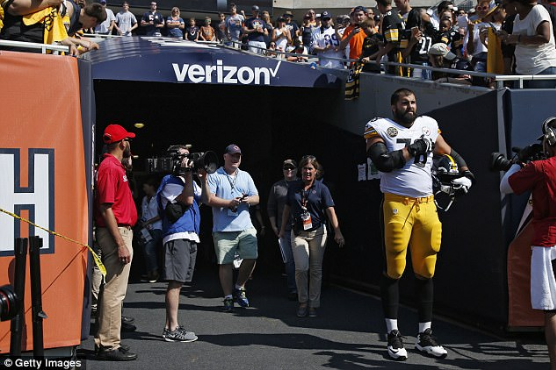 A patriot can be defined as a person who vigorously supports their country and is prepared to defend it against enemies or detractors. This is one of many words that can describe the Steelers' offensive lineman Alejandro Villanueva. He served in the military for over three years after graduating from West Point Military Academy. He has earned multiple awards for his bravery including the Bronze Star Medal with a "V" device and the Afghanistan Campaign Medal. The Bronze Star Medal was awarded for rescuing wounded comrades under enemy fire, while the Afghanistan Campaign was for his multiple deployments in Afghanistan. A sense of pride and respect for his country had been ingrained in him from his late teenage years when he went to school at West Point.
Most people didn't know much about this hero before September 24 when the Pittsburgh Steelers played the Chicago Bears at Heinz Field. He had been playing for the Pittsburgh Steelers for three years before he suddenly received a massive amount of publicity. He was the lone player for the Steelers to come out of the locker room and stand for the national anthem. Their coach, Mike Tomlin, had previously said they would all stay in the locker room in an act of comradery. However, Villanueva felt like he needed to see the flag in order to respect those who had given their lives in service to their country. Therefore, he walked out of the tunnel to get a glimpse but thought it would be extremely disrespectful to walk back into the tunnel. His jersey accumulated the most sales over the next couple of days. It took more courage than most of us will ever know when he fought for his country, and it seems like he is still doing so, even if it is not on a battlefield.
Photo Credit: Daily Mail