Senator Menendez Trial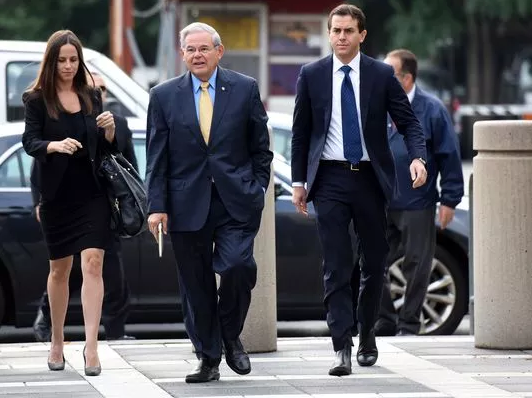 Hang on for a minute...we're trying to find some more stories you might like.
It sounds like a scene out of Mr. Smith Goes to Washington: big money bribes a sitting senator in exchange for favors. Yet, what I've just described is all too real, and might have been occurring with your US Senator. If you have been watching the news over the summer, you might have heard about the Senator Bob Menendez trial. Our Democratic senior senator was indicted on federal charges of corruption stemming from his purported giving of gifts and services to a Florida doctor, Salomon Melgen, who is being indicted on corruption charges of his own. Senator Menendez has assured the good people of New Jersey that he will be present in Washington for all crucial votes, even if it means skipping the trial.
But what is best for his constituents  —  stepping down with a general election in just a year, or seeing his term through marred with controversy (and perhaps even needing to forfeit the seat anyway)? A poll taken by Suffolk University shows that New Jerseyans want him to resign his seat if convicted (84% at large and 77% of his own party); this author agrees. Like Governor Christie, Sen. Menendez's approval ratings have tanked (although potentially boosted because he actually is present to do his job). While Republicans have criticized the Democratic silence on the issue, Senate Minority Leader Chuck Schumer leaves the door open to expulsion if Menendez is convicted.
Photo Credit: North Jersey.com