AJ Kopacz Looks to Break OP Scoring Record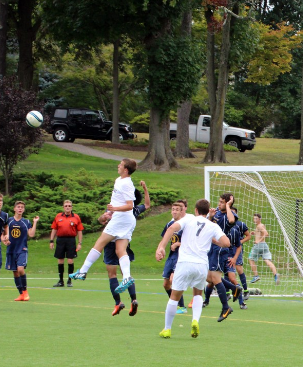 "Goooooooooooaaal!" Many different people have shouted this over the course of almost four years. Parents, students, faculty, and siblings are all included. While a variety of people have spoken this word, the person who they are speaking about is the one and only AJ Kopacz. AJ is now a senior and has played on varsity since entering Oratory as a freshman. With all of his accumulated goals, he is quickly closing in on the OP all-time leader. The spot of honor is currently being held by Jack Bizub, one of the best players ever to put on an Oratory Uniform. However, AJ could become the single best player in Oratory's history by the time this season is over. He may already be the best in some people's eyes.
He stands out like a man amongst boys on the soccer field, not only because of his size but in every aspect of the game. Every time he gets the ball, there is an air of expectation that travels through the crowd. When he winds up for a shot, the crowd rises in anticipation of the ball being put into the back of the net. He has already shown his scoring capability this season with the lone goal against Dayton about two weeks. This was impressive as the one goal led Oratory to a victory and was the only one scored by both teams. However, his next game two days after was even more impressive. He scored four goals as Oratory pummeled Brearley 5-0 and gained crucial momentum in a relatively young 2017 season.
"Records are made to be broken," said Terry Vaughn, and AJ is going to break them. He has 45 goals as of September 19th. Jack Bizub holds the current Oratory record with 52 goals, but it will definitely be surpassed by the time the season reaches the end. Although it may seem like he is a scorer, which he is, he is also one of the best passers ever to be seen from Oratory. He also holds the record for assists with 28 assists and counting. In Mr. Barresi's opinion, AJ is "the best player" who has ever played for Oratory. Nobody is sure how AJ is going to finish his career at Oratory. Nor do they know how many more goals and assists he will pile up.