Pessimist Comparison – Adam Lewis and Mrs. Gribbin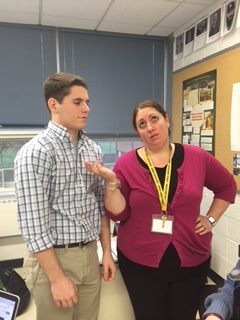 OP has a storied brotherhood that revolves around one OP man helping out a fellow brethren, whether it be in schoolwork, sports, with relationship advice, or whatever else may seem fit. While Adam Lewis and Mrs. Gribbin are great people to go to in the school community, they are notorious for the snarky energy they bring each and every day. Correspondingly, I asked them a few questions about their personality. To enhance the comparison, I asked the same questions to each; feel free to judge their responses as harshly as you please!
How would you describe your personality? Who or what has shaped your personality?
Mrs. Gribbin: My personality is sarcastic and honest but likable. I am not nearly as mean as I am made out to be. That's the difference between Adam and me – Adam is truly really mean. My mother is the nicest and holiest person in the world, so I definitely get this personality from my father.
Adam Lewis: People say I am a pessimist, but I would consider myself as a realist. I am a borderline anarchist who wishes for the wildest things to occur, so I can sit back and enjoy the pandemonium. My personality has been shaped by Satan himself – just kidding. Rather, it has been brought about through Anthony Jeselnik's humor, Aidan Windorf's existential personality, and the idea that every decision a human makes is indirectly selfish.
Who is the most loving and caring person you know? Who is the least compassionate?
Mrs. Gribbin: My mother is definitely the most caring person I know. Adam lacks any compassion.
Adam Lewis: Myself and also myself. I fit both of those molds.
How do you enhance the positive energy and school spirit at OP?
Mrs. Gribbin: I help lead student council. I think that most kids genuinely enjoy the assemblies and events that we help put together. Opening the new building will definitely get us more positive energy.
Adam Lewis: For some reason, teachers trust me to do things for them and the school community. I have been a part of the Rampresentatives, OP Omega, and was a captain for cross country.
Describe your adversary in five words.
Mrs. Gribbin (about Adam): Me as a teenage boy
Adam Lewis (about Mrs. Gribbin): Me as a demon woman
This relationship has been built up in Adam's time at OP and enhanced in his classes with Mrs. Gribbin. Together, they help provide an attitude that borders pessimism and realism. They both are very prominent figures at OP. In fact, Adam was a judge at the talent show this year. Mrs. Gribbin left a message for Adam before the contest began to not be too mean in his judging. While the debate as to whether Adam was too hard on the contestants rages, he tended to give lower scores than the other judges. Imagine how much worse the scores could have been if not for Mrs. Gribbin's reminder to show some sort of compassion!