Recap of the Big East and ACC Tournaments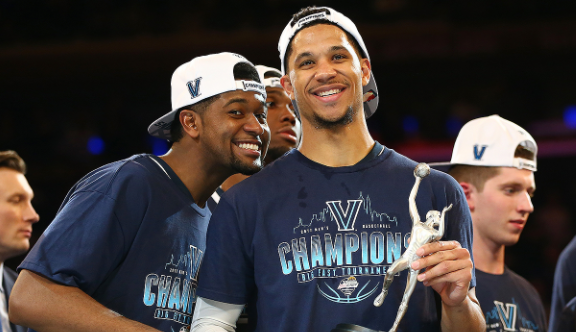 The Big East and ACC tournaments concluded on Saturday night. Featured at MSG and the Barclays Center respectively, both had prominent teams were in action for the final time before the NCAA tournament. In uptown, top-seeded Villanova squared off against sixth-seeded Creighton for the Big East crown, and, in Brooklyn, the Blue Devils battled the Fighting Irish in hopes for the ACC title. At the end of the night, Villanova and Duke had come out on top of the two hard fought battles, adding another win to their resumes ahead of the NCAA bracket reveal. The tournaments were high in intensity and had great competition as they featured a combined 16 teams that made the NCAA tournament.
The Big East tournament had much parity, especially for the middling teams. Seton Hall was able to knock off Marquette before losing a close matchup against top-seeded Villanova in the semis. On the other side of the bracket, Xavier got past a play-in game against DePaul and went on the upset Butler. From there, it lost a heartbreaker to Creighton, who had defeated third-seeded Providence the night before. In the championship, Villanova picked itself up after a weak performance against Seton Hall and beat Creighton handily behind 29 points from Big East MVP Josh Hart.
Across town, the 15 ACC teams competed over a five-day span. On day one, Clemson, Wake Forest, and Pitt won their play-in games but would all lose the following day. In the quarterfinals, the heavyweights squared off with Duke picking up a comeback win against Louisville and Notre Dame fighting off Virginia. Then, in the semifinals, Duke ousted rival UNC, and a Notre Dame victory set up a marquee matchup the following night. Duke would overcome a second half deficit to defeat the Fighting Irish who were wholeheartedly led by star Bonzie Colson. Colson totaled 29 points and played through an ankle injury suffered in the second half. Duke is coming out of this stacked tournament looking very hot as they are healthy for arguably the first time all season. Winning the ACC seems to have them primed for a strong tournament run.
These two prominent conference tournaments featured plenty of strong teams that could have success later in March. Villanova, UNC, Duke, and others all seem to have a great shot at winning it all. However, many smaller teams could easily pull off upsets and string together a few wins as they are no strangers to high-level competition. Furthermore, this time of the year is very exciting, and these conference tournaments only started what figures to be an exciting month of basketball. Welcome to March Madness!
Photo Cred:
http://www.si.com/college-basketball/2017/03/11/big-east-tournament-villanova-creighton-marquette