Corey Vita Interview: NICU at Morristown Medical Center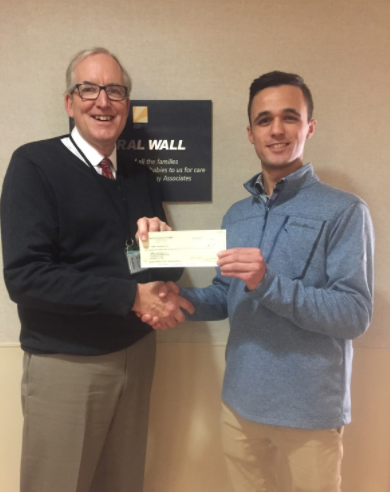 On January 13th there was a tag day to benefit the NICU at Morristown Medical Center. This tag day was run by junior Corey Vita and collected $1,442. Last Tuesday he relayed the money to the hospital, helping this cause near to him greatly. To gain a better understanding of where these proceeds are going and Corey's personal connection, I asked him a few questions.
Q: Can you expand the impact of the NICU?
A: NICU stands for neonatal intensive care unit. It is a unit that specializes in the care of ill or premature newborn infants. Infants can spend anywhere from a few days to many months inside of the NICU depending on the severity of their illness or timing of their birth. Many of the babies that are in the NICU are premature, have a planned C-Section, or are very ill.
Q: How did you become affiliated with the organization?
A: It was where my siblings and I were born. My twin sister and I were born at 28 weeks at just over 1 pound and my older twin brother and sister were born at 32 weeks at roughly the same weight. We spent the first few months of our lives in the NICU and Dr. Mimms (who runs the NICU at Morristown Medical Center) diligently cared for us. Over the years, my family has given back to the unit and kept in touch with the doctors and nurses who helped save the lives of my siblings and me.
Q: How long have you been collecting for this cause? Are you excited with the amount of money raised?
A: My family has given back to this for many years. Just recently, my brother Andrew and I began having tag days at Oratory. The money raised here has helped the NICU explore new technology and research to better improve the chances of infant survival. They do not receive many grants, so this money is definitely helpful for their continued service and research. I am very excited for what my brother and I have raised because I know that it is going to help so many babies in the unit. This past week I was able to visit the NICU and see their technological advancements in use. It was very exciting to see the improvements they have made since my siblings and I were in the unit. It has become one of the top NICU in the country; they heavily value privacy and proper care.
Q: Do you anticipate having future fundraisers for the NICU?
A: Absolutely. Being emotionally involved due to the impact it has had on my life, I seek every opportunity to support the NICU at Morristown Medical Center. I personally know how great of a cause that it supports. In fact, I am having a new campaign for the Overlook Medical Center NICU to upgrade their facilities and introduce new technologies. They are lacking innovation in comparison to Morristown and could benefit greatly from the introduction of a BiliSoft Phototherapy System to their facility. The system provides intensive phototherapy while supporting developmental and family-centered care.