UVA vs. Villanova Recap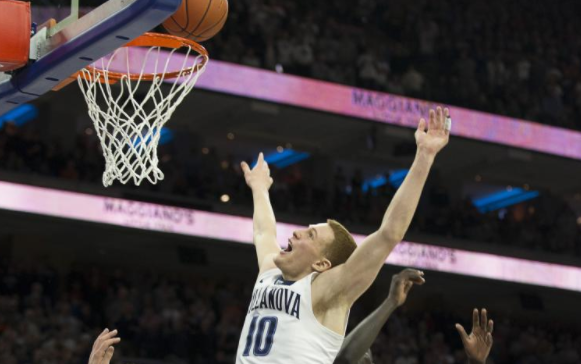 Sunday afternoon had Wells Fargo Center as the center of college basketball. It was set to be a tightly contested battle between top-seeded Villanova and twelfth seeded Virginia. In the cross conference game, both teams could really use this matchup as a key win. Villanova was coming off an upset loss to unranked Marquette, blowing a large halftime lead, and Virginia was riding a five-game win streak and wanted to build upon their previous win against #14 Notre Dame. The fans packed the arena with an attendance of 20,907 that set a record for a Wells Fargo Center college basketball game. The Villanova fans, particularly the student sections behind the basket, embraced the "white-out" theme.
The start of the game was relatively slow as Villanova was not able to get anything going against Virginia's strong defense. Heading into halftime, the Cavaliers were up 31-22. This was the worst offensive half of basketball played by Villanova all season. Their low scoring output reflected a field goal percentage of 18.2%, and their big stars, Josh Hart and Kris Jenkins, started off the game a combined 0-14 from the field. Mikal Bridges was able to keep them in the game by pacing the team and finishing with 15 points.
Coming out of the half, Villanova still struggled to find their rhythm. Virginia was able to extend its lead to 13 in part due to the hot hand of freshman Ty Jerome (15 points). With a bit less than 10 minutes to play, Villanova began hitting shots and surged back to be right on Virginia's tail after back to back threes by Kris Jenkins. With four minutes left, Nova took the lead on a three by Josh Hart. Going down to the wire, the teams exchanged baskets. Ty Jerome would hit a jumper with 17 seconds left, matching a layup by Jalen Brunson (15 points) on Villanova's previous possession. Villanova still had time to take the last shot, and the ball was in the hands of none other than star Josh Hart. He drove left and got to the rim, but his shot fell just short. However, as the ball was dropping, Donte DiVincenzo tipped it in for his only basket of the afternoon. Nova had completed their comeback and was able to avoid losing back to back games for the first time since 2013. On the other hand, Virginia was not able to overcome a poor shooting performance from guard London Perrantes (2 for 11) even with strong performances from Jerome, Shayok (14 points), and Wilkins (6 for 6 shooting with 8 rebounds).
Photo Credit: http://bleacherreport.com/articles/2689934-uva-vs-villanova-score-and-reaction-from-2017-regular-season